2014 GAYOT.COM SITE NEWS

Read the latest editorial and business news happening at GAYOT.com. Watch this space for updates on affiliate relationships, partner deals, media mentions, as well as new editorial content and hot new lists in the areas of dining, travel, lifestyle and more.
BEST BETS FOR SIN CITY DINING
The 10 Best Las Vegas Restaurants
Once known more for its 24-hour buffets than its quality cuisine, Las Vegas has grown into a world-class dining destination. Take a look at GAYOT's favorite restaurants in Sin City to find everything from hidden-gem Japanese restaurants to opulent French venues curated by celebrity chefs. (9/26/14)

See the entire list with recommended dishes!
---
TAKE A BITE OUT OF THE BAY AREA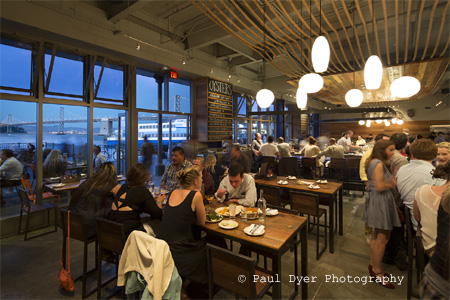 The 25 Best San Francisco Restaurants
Locals know that autumn offers some of the best weather for exploring San Francisco. This fall, celebrate the diversity of the Bay Area, from low-key ramen houses to neighborhood Italian eateries to hyper-modern bastions of haute-cuisine. (9/24/14)

See the entire list with recommended dishes!
---
DINING OUT IN THE WINDY CITY
The 10 Best Chicago Restaurants
From deep dish pizza joints to cutting-edge establishments run by celebrity chefs, there's no shortage of options when it comes to dining out in the Windy City. Check out GAYOT's 10 Best Chicago Restaurants to find great ideas for a night out on the town. (9/22/14)

See the entire list with recommended dishes!
---
HARVEST SEASON

Fall 2014 Edition
The leaves are turning and autumn is in the air. Check out GAYOT's current newsletter, featuring our Top 10 Steak Wines, Top 10 Bourbons, Top 10 Craft Beers and more!
---
WHERE TO EAT IN NY
The 25 Best New York Restaurants
In a sprawling metropolis known for its quality cuisine, separating the merely good restaurants from the great ones can be tough, which is why we're here to help. Check out GAYOT's Top 25 Restaurants in New York City to find the fall season's hottest dining spots. (9/16/14)

See the entire list with recommended dishes!
---
HIGH STAKES
September 2014 Tastes Newsletter
Fall is just around the corner, calling out for heartier fare and wine harvest season getaways. Check out GAYOT's September 2014 edition to find the greatest steakhouses near you, the most idyllic wine country inns in the world, surprising vino choices for pairing with steak and the funnest cars for Dads. (9/10/14)

Read the September 2014 Tastes newsletter
---
PRIMO PASTA & MORE




Top 10 Italian Restaurants in the U.S.
Today's modern Italian restaurants strive for something more, like handmade pastas, rustic regional recipes and exquisite surroundings. (8/22/14)

Check out America's best Italian restaurants

---
More 2014 Site News
2013 Site News
2012 Site News
2011 Site News
2010 Site News
2009 Site News
2008 Site News
2007 Site News
2006 Site News
2005 Site News
2004 Site News
2003 Site News
---
Press Releases:

GAYOT Publishes 2013 Restaurant Issue (March 2013)

GAYOT Publishes 2012 Restaurant Issue (March 2012)

GAYOT Publishes 2012 Hawaii Issue (March 2012)

GAYOT Publishes 72-Hour Guides to Vancouver, Montreal and Toronto (July 2011)


More Press Releases

Online Articles & Media Mentions:
CBS SF Bay Area: Best Pizza in San Francisco (September 2014)

BostInno: Which Boston Restaurant is a Top 10 Outdoor Dining Destination in the U.S.? (July 2014)

The Atlanta Journal-Constitution: List mania: Which taco stand in Atlanta made this list of the top 10? (July 2014)

West Hawaii Today: Gayot.com names Hale Ohia Cottages a Top Ten Value Hotel in the United States (May 2014)

Santa Monica Mirror: Gayot.com names Treats one of the Top 10 Frozen Yogurts in Los Angeles (April 2014)

The Huffington Post: Gayot.com lists the Top 10 Hotels Under $150 in the U.S. (March 2014)

Decaturmetro.com: Atlanta Pub Made Gayot.com's List of Top 10 Irish Pubs in the United States for 2014 (March 2014)

11Alive: Atlanta Pub Made Gayot.com's List of Top 10 Irish Pubs in the United States for 2014 (March 2014)

Atlanta Business Chronicle: Marlay House among best Irish pubs (March 2014)

WebProNews.com reports: Hotel Museo Casa Santa Domingo on GAYOT's Top 10 Value Hotels list (March 2014)

Search Engine Watch reports: Google Displaying Restaurant Menus from GAYOT.com (March 2014)

Seattle Post Intelligencer reports: Deschutes Brewery IPA is Top Gayot Beer (February 2014)

Yahoo! Canada Finance references GAYOT's "Hot 40 Restaurants" (January 2014)

Emag.co.uk reports: Hakkasan Ltd. Announces Completion Of Enlightened Hospitality Group Acquisition (January 2014)

Newsplex.com reports: Trump Winery's 2012 Viognier Named a Top Rated Viognier by Gayot (January 2014)

Cigar Advisor references GAYOT's Top 10 Steakhouses in the U.S. (January 2014)

Robb Report references GAYOT Restaurant Awards (October 2013)

The Daily Meal reports: Burger, Tap & Shake Named One of D.C.'s Top Cheap Eats by Gayot (July 2013)

Bibimbap Backpackers YouTube clip featuring Alain Gayot (July 2013)

Huffington Post reports: Sophie Gayot celebrates competition winner and new executive chef at Culina Modern Italian (March 2013)

GAYOT's Top 10 Green Hotels in the U.S. on SuccessfulMeetings.com (September 2012)

Las Vegas Sun reports: Hash House A Go Go makes nation's Top 10 Cheap Eats (August 2012)

Media Attention for GAYOT's 2012 Annual Restaurant Issue (August 2012)

Vegas24Seven.com reports: Hash House A Go Go named among Gayot.com's "Top 10 Cheap Eats in the United States" (August 2012)

Gayot in the Media


More Media Mentions
UNW92914