Practical Paleo - Cookbook Review
A Customized Approach to Health and a Whole-Foods Lifestyle
by Diane Sanfilippo
(Victory Belt Publishing, 2012)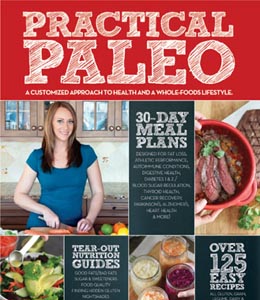 The Caveman Diet Cookbook
At first glance, the popular Paleo diet totally seems retrograde. Going back to caveman eating? Really? But if you believe author Diane Sanfilippo, it can do wonders for your health. To find out more about this buzz-worthy regimen, check out Sanfilippo's book Practical Paleo, which offers a comprehensive overview of this protein-rich, gluten-averse approach.
Rather than a diet book for weight loss, Practical Paleo proposes a lifelong healthy lifestyle, and includes 30-day meal plans, more than 120 recipes and lots of invaluable, interesting information and research. For Sanfilippo the issue is personal, having had her own health struggles and finding that a life-changing Paleo Solution Seminar helped her lose her freshman fifteen and resolved her acne and digestive ailments.
Sanfilippo explains why refined sugars, processed foods, pasteurized dairy and the evil henchman gluten are all waging war on our internal organs. She says the diet of the first world is flooded with havoc-wreaking gluten-rich and processed foods. She offers various guides and tips to help navigate through a sea of Paleo-unfriendly dining options with suggestions like: "avoid Chinese food altogether" when dining out and "sashimi is an easy option" if you're opting for Japanese. Ordering a dinner of primarily sashimi is not a viable option for most of us watching our wallets, and the Paleo lifestyle does not come cheap as it relies heavily on high-quality grass-fed protein and organic fruits and vegetables. But spending more on food today may be a good investment for the future if like Sanfilippo you stand squarely in the gluten-free camp.

Her recipes are decidedly restrained for a diet that encourages using bacon fat as a good cooking oil alternative. There are turkey burgers with Indian spices on two Portobello mushrooms as a makeshift bun; blueberry lemon muffins with coconut flour; and if you're still missing a big carby bowl of pasta, pesto shrimp and squash fettuccine. But then again, Sanfilippo isn't looking to impress fussy, sophisticated palates but help people heal autoimmune issues, diabetes and other illnesses.
Paleo may not be the easiest diet when you are asking the waiter at your favorite Italian restaurant for a grain-free pizza, but if you are interested in learning more about this brand new diet or want to give your body a gluten vacation, the comprehensive and well-written Practical Paleo is a great place to start.
Related Content:

Gather: The Art of Paleo Entertaining

Going Gluten Free

Top 10 Diet Books

More Cookbooks

Deconstructing Organic Beef

| | |
| --- | --- |
| PAB022513 | |