BMW Reviews
Initially established as an airplane engine manufacturing company in 1916, Bavarian Motor Works didn't begin to focus on producing high-performance motorcycles and automobiles until after the First World War. While the blue-and-white-checked badge remains as a reminder of the brand's aeronautical origins (the blue and white representing the sky and an airplane propeller, respectively), today, BMW is known for its fleet of finely-tuned cars and SUVs, which includes the flagship 7-series sedans and the ultra-stylish Z sports coupes. Consult our reviews listed below for updated information and opinions on BMW's ever-growing line of luxury vehicles.
Check out our blog to learn about the BMW Art Cars exhibit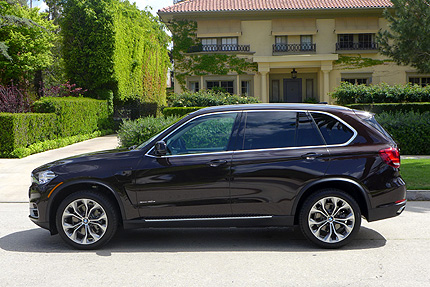 BMW X5 xDrive40e
A luxurious plug-in hybrid SUV? Is it possible? With the 2016 BMW X5 xDrive40e, that dream has become a reality. Enjoy the holy trifecta of driving: luxury, utility and fuel-efficiency in one package.

Read more
---
BMW 7 Series
This sedan is the face of the future, with packages like Active Driving Assistance to help the vehicle automatically maintain lanes, speed and transmission. Inside the 7 series, the iDrive 5.0 software allows you to answer or ignore a call with the wave of your hand.

Read more
---
BMW X4 xDrive 35i
A sporty crossover that splits the difference between the X3 SUV and the 4 Series Gran Coupe, the X4 offers plenty of driving thrills and some advanced conveniences to go along with its odd shape.

Read more
---
BMW i3
This electric hatchback features a 170-horsepower motor, a 32.8' turning circle, and is constructed using a plethora of innovative, eco-friendly materials and techniques.

Read more
---
BMW 228i Coupe
Offering a superb turbocharged 4-cylinder engine that gives it both excellent fuel economy and thrilling acceleration, the 228i is one of the most fun-to-drive new BMWs. It is also one of the cheapest cars the Bavarian company sells in the United States, making the 228i an excellent value for a luxury vehicle.

Read more
---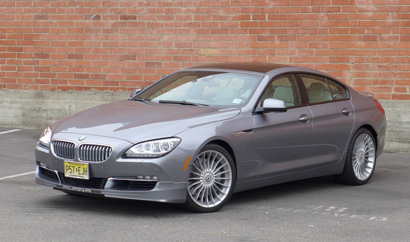 BMW Alpina B6 XDrive Gran Coupe
From the bespoke heraldic badges to the myrtle wood trim to the highly tuned 4.4-liter turbocharged V8, the Alpina B6 is a unique mix of modern performance and traditional craftsmanship.

Read more
---
BMW i8
BMW's advanced hybrid supercar has lofty aims and radical styling to match. With a diminutive turbocharged 3-cylinder gas engine teaming up with a pair of electric motors, the i8 does 0-60 in under 4 seconds yet returns over 30 mpg.

Read morer
---
BMW 435i Coupe
Replacing the outgoing 3 Series coupe, this luxurious midsize sports coupe is larger than its predecessor, sits lower to the ground and has a bold-yet-sleek silhouette that complements its athletic twin-turbocharged inline-6.

Read more
---
BMW 640i Gran Coupe

This long and luxurious 4-door sports car combines the deft handling and swift acceleration of a coupe with the elegance and extra space of a sedan.
---
BMW X1 xDrive28i

Based on the same platform as the 1-series sedan, this small SUV stands just over five feet tall; however, like its diminutive sibling, the BMW X1 loves to sprint, offering great handling and peppy acceleration from its twin-turbocharged inline-4.
---
BMW ActiveHybrid 5

As a more fuel-efficient alternative to BMW's popular 5-series sedan, the ActiveHybrid 5 offers the same athletic performance with a new eco-friendly outlook.
---
BMW 328i

Trading in the outgoing model's inline-6 for an efficient twin-turbocharged inline-4, the BMW 328i sedan offers premium sports performance while earning up to 36 mpg highway.
---
BMW 650i Convertible

Boasting a powerful 4.4-liter twin-turbocharged V8 along with a sleek and sexy exterior design, this attention getting soft-top convertible is as intelligent as it is athletic, with cool features like a voice-controlled navigation system and a side mirror alert system adding some brains to the 650i's substantial brawn.
---
BMW 335i
Marrying clean lines with a comfortable, roomy interior and a 300-horsepower, turbocharged 6-cylinder engine, the 2011 3-series is one of the best all-around cars we've seen from BMW in recent years.
---
BMW M3 Convertible

Using the already-agile 3 Series convertible as a template, the amped-up M edition comes fitted with a muscular 4.0-liter, 414-horsepower V8 engine that sends the hardtop howling from 0-60 in 4.9 seconds. An advanced braking system and adjustable sport-tuned suspension complete the M3's race track-ready ride.
---
BMW Z4 sDrive30i
Whether you're cruising down the coast or driving to your daily grind, this sporty hardtop convertible is sure to put a smile on your face. Featuring extra-responsive handling and a powerful 3.0-liter inline-6 engine, the Z4 allows you to get from point A to B in a hurry; but with a car this fun to drive, why would you want to?
---
BMW 750Li Sedan

The largest (and roomiest) member of BMW's flagship 7 Series couples smooth handling with the envy-inducing power of a 32-valve V8 engine to create a luxurious driving experience that few can rival.
---
BMW 535i Sedan
This elegant mid-sized luxury sedan is quick to reveal its deft handling and swift acceleration, running from 0-60 mph in just 5.6 seconds. Inside its roomy and comfortable interior are a slew of available features, including park distance control, heated seats, active cruise control, and a lane departure warning system.
---
BMW X6 xDrive35i

Though unable to decide whether it's a sports coupe or an SUV, the X6's athletic demeanor leaves no doubt that it's intended to be fun to drive.
---
BMW Hydrogen 7
While seemingly conventional, this luxury 7-series sedan is powered by a 260 hp V12 engine, and can use either hydrogen or regular gasoline for fuel.
---
BMW 328xi Sports Wagon

This spacious five-passenger station wagon comes with all-wheel drive and safety features that include an interlocking door anchoring system and front-seat-mounted side-impact airbags.
---
BMW 128i Convertible
With the option of the sky for a roof, this sporty cabriolet can crank up to 230 horsepower, and reach speeds of 130 mph on the open road. Other features include 28 mpg with extra-urban driving, an interlocking door anchoring system and brake drying.
---
BMW 135i Coupe

The 135i Coupe is part of the 1 Series, which completes BMW's lineup and satisfies drivers' current demand for smaller cars. This coupe is agile, responsive and super-sporty.
---
BMW X3 3.0si
BMW's midsize SUV has something for everyone. Gearheads will appreciate the amped-up performance, and luxury lovers will love details like sixteen-way comfort seats and chrome exhaust tips.
---
BMW 335i Coupe

After more than 20 years, BMW puts a turbocharged gasoline engine in one of its sporty cars—and to great effect. The 335i Coupe reaches M3-performance levels, but with a more civilized ride and driver's environment.
---
BMW M Coupe
The first M Coupe looked like the bizarre love child of a Z3 and a Honda Civic hatchback. The new one is sleeker, but just as wild with a mighty inline-6 under the hood and precision handling.
---
BMW 650i Convertible

Performance and luxury come together in this large V8-powered convertible. While it doesn't have a retractable hard top, the cloth roof is nonetheless an innovative design with a rear window that doubles as a wind deflector.
---
BMW 750i
After turning the design world on its head with its funky lines and iDrive controller, the refreshed flagship Bimmer now features cleaner lines and improved ergonomics. Performance has also been enhanced by a more powerful 360-horsepower V8 engine.
---
BMW X5 4.4i

Control and comfort are one in the new BMW X5. With lots of luxury options, you might forget you're in a vehicle designed to bear rough-and-tough terrain.
---
BMW 330i
This new release is slightly larger than the previous generation, and space distribution inside as well as the trunk is of good proportions. The design, both inside and outside, is one of the better ones we've seen from BMW.
---
BMW 645Ci

The 645Ci is a driver's car that you will enjoy in the city and on the highway but will totally fall in love with if you ever get it on a track. It has looks that are luxurious and inspire speed.
---
BMW 530i
A well-built and sure-footed mid-size sedan that can. But watch your dollars, as extras do add up.
---
UAA41116