Previously Featured
Top 4-Door Sports Cars
While we often think of sexy two-seaters as the ultimate joyrides, these high-performance 4-door models give them a run for their money — quite literally. Falling somewhere between slimmed-down sedan and beefed-up coupe, our favorite 4-door sports cars all provide precise handling and plenty of horsepower along with a luxury feel and passenger-pleasing amenities.
Maserati Ghibli
This Italian sports sedan is powered by a twin-turbocharged V6 engine and has the verve and character to set itself apart from its more common German rivals.


---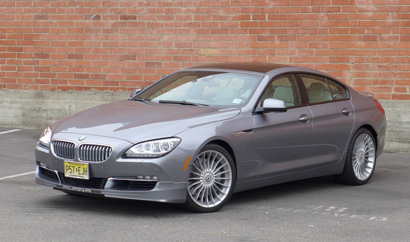 Alpina B6 Gran Coupe
Able to reach 191 mph on the Autobahn, the Alpina B6 also has the speed and power to match its sleek looks and ostentatious exclusivity.


---
Lamborghini Estoque
As the first production Lamborghini with 4 doors, this futuristic sports sedan is an exciting venture for the iconic Italian brand.


---
BMW 640i Gran Coupe
Showcasing a striking exterior design sure to turn heads in any valet line, the BMW 640i Gran Coupe may be pretty, but this 4-door sports car has more than just good looks going for it.


---
Maserati Quattroporte GTS
With a name that literally means "four doors" in Italian, the Quattroporte is one sports car that isn't afraid to stand out from the pack.


---
Porsche Panamera Turbo S
An opulent four-passenger sports sedan with a striking low and long body, the Panamera Turbo S retains typical Porsche performance characteristics, including great handling at high speeds and a potent V8 engine.


---
Chevrolet SS
Chevrolet's first rear-wheel-drive performance 4-door model in nearly two decades offers a winning mix of muscle car engineering and luxury sedan styling.


---
Audi A7 Quattro

Following the lead of fellow 4-door sports cars like the Porsche Panamera and the Aston Martin Rapide, the all new Audi A7 combines the cool looks and deft handling of a sports coupe with the extra size and length of a luxury sedan.
---
Fisker Karma EcoSport


This unique hybrid sports car delivers high-performance fun with a low environmental impact. A true head-turner with a celebrity clientele, the Fisker Karma is a welcome alternative to the current class of gas-guzzlers that populate the luxury car segment.
---
Volkswagen CC


This luxurious 4-door sports car from Volkswagen is a departure from the German automaker's other offerings; however, while the CC may exude the kind of opulence not normally seen in a VW, it is still made with value in mind.
---
Spyker D8 Peking-to-Paris
Dubbed an SSUV, or "Super Sport Utility Vehicle," by Spyker, the D8 Peking-to-Paris blurs the lines between sport ute and sports coupe. Designed as an all-terrain vehicle that doesn't skimp on performance, the D8 boasts a top speed of 170 mph and a sub-five-second 0-60 time.
---
Bentley Mulsanne
This powerful and refined grand touring sedan from the English connoisseurs of high class is a buttery smooth expression of finely-engineered, hand-built ultraluxury.
---
Nissan Maxima
Comfortable and practical, the Maxima features an athletic appearance and an equally sporty 290-horsepower V6 engine. Inside, this 5-passenger vehicle shows off an array of value-minded accessories such as power front seats and a power sunroof.
---
Current Best 4-Door Sports Cars