Previously Featured Top Hybrid Cars
Given their exceptional fuel economy ratings, environmentally friendly reputation and special incentives and tax breaks, it's no wonder that more models of hybrid cars are going on sale each year. While hybrids still use gas to power a conventional engine, they boost their fuel-efficient street cred with electric motors, high-voltage batteries and regenerative braking. The low-emissions automotive market isn't even focused just on bare-bones small cars like the Toyota Prius and Honda Insight anymore; it now includes large luxury vehicles such as sedans, crossovers and SUVs. Browse the following ten high-mileage, dual-powered automobiles for great hybrids in each category.
BMW i8
This high-performance hybrid delivers eco-friendly thrills at a steep cost of $136,625.
Toyota Prius c
Earning 53 mpg city, the Toyota Prius c makes a great urban runabout. However, with 60/40 split rear seats and 17.1 feet of cargo space behind the second row, this thrifty hatchback also works well as a long distance voyager.
Lexus CT 200h
Sharing much of the same hybrid technology with the Toyota Prius, the Lexus CT 200h hybrid hatchback elevates eco-friendly driving to the luxury sport level with its smart and sleek design and performance-oriented adjustable drivetrain.
Honda CR-Z
As the third hybrid in Honda's lineup, the brand-new CR-Z offers drivers the fun look and feel of a sports coupe in a fuel-efficient, environmentally-friendly form.
Toyota Prius
This redesigned third-generation hybrid hatchback, equipped with a 1.8-liter gas engine, an electric motor, regenerative braking and a 650-volt NiMH battery, gets a city fuel economy of up to 51 mpg.
Honda Insight
While some go faster and some farther on a single tank, few hybrids can claim to be as affordable — or as much fun — as the brand new Honda Insight. Starting at under $20,000, the Insight proves to possess a pleasant mix of fun and frugality.
Nissan Pathfinder Hybrid
Nissan adds a hybrid powertrain to the new Pathfinder, cementing its transformation from rugged truck-based SUV to crossover-like family errand machine.
Ford Escape Hybrid

With its compact size and excellent fuel economy, the Ford Escape Hybrid strikes the ideal balance between efficiency and fun. You may also want to treat yourself to some of the Escape's enticing options, including SYNC, satellite radio, and the innovative Travel Link navigation system.
Volkswagen Touareg Hybrid


As VW's first foray into hybrid technology, the Touareg Hybrid points to great things for the European automaker's electricity-fueled future. Marrying German engineering with the latest green technology, this SUV offers acceptable MPG figures while still delivering solid performance.
Porsche Cayenne Hybrid

Porsche is finally throwing its hat into the hybrid ring with the all-new Cayenne Hybrid, a fuel-saving sport ute that doesn't skimp on performance. Delivering a combined 380 horsepower from its supercharged V6 and 288-volt electric motor, this hybrid SUV is both athletic and efficient.
Cadillac Escalade Hybrid

As large and luxurious as the regular Escalade, the two-mode hybrid version comes equipped with an efficient V8 engine and a 300-watt battery, which boosts fuel economy to 21 mpg on the highway.
Saturn Vue Green Line Hybrid

Boasting 32 mpg on the highway, this SUV is a roomy way to travel while saving on gas. Features like traction and stability control, along with six airbags and OnStar make this also a safe way to get around.
Honda Civic Hybrid
The same great features of the full-motor Honda Civic, but with the added benefits of a lithium ion battery, which help this Civic average a combined 44 MPG on city and highway.
---
Infiniti Q50
A sedan that has all the luxury, plus the added benefits of fuel-economy with an EPA-estimated 29 MPG in the city and 36 MPG on the highway.
---
Kia Optima Hybrid
This cool new sedan features the same great fuel economy as the Hyundai Sonata Hybrid, along with the Optima's attractive and aggressive packaging and design.
---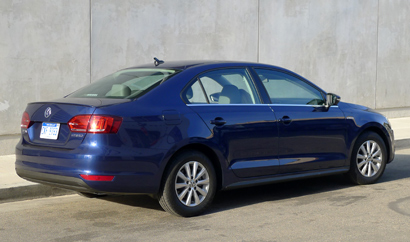 Volkswagen Jetta Hybrid
This smart and stylish hybrid sedan balances practicality with performance, earning up to 48 mpg highway while still offering 170 horsepower and a driver-friendly ride.
---
BMW ActiveHybrid 3
With a turbocharged inline-6 and electric motor driving the rear wheels, this high-performance hybrid delivers eco-friendly, but not cheap, thrills.
---
Acura ILX
Based on the Civic Hybrid, this fuel-sipping premium sedan has a high-quality interior and responsive handling.
---
Ford Fusion
The hybrid version of the Ford Fusion is one of most efficient and stylish mid-sized sedans on the market.
---
Hyundai Sonata
A great value, the full-featured Sonata Hybrid pairs advanced in-car communications tech with swoopy, extroverted styling.
---
BMW ActiveHybrid 5

As a more fuel-efficient alternative to BMW's popular 5-series sedan, the ActiveHybrid 5 offers the same athletic performance with a new eco-friendly outlook.
Infiniti M Hybrid


Guiness-certified as the fastest gas/electric car in the standing quarter mile, the Infiniti M Hybrid offers world-class performance in an efficient package. Infiniti's Direct Response hybrid system boasts 360 horsepower while achieving up to 32 mpg highway.
Chevrolet Volt
This series-hybrid is powered solely by an electric drive unit, and makes for a great commuter vehicle. Best of all, this four-passenger sedan can be plugged into a standard 120-volt outlet to recharge overnight.
Porsche Panamera S Hybrid


Boasting 380 horsepower and a 0-60 time of 5.7 seconds, the Porsche Panamera S Hybrid offfers excellent performance while still earning 30 mpg highway.
Lincoln MKZ Hybrid


This luxurious hybrid sedan is designed to save drivers money in more ways than one. Starting at a reasonable price under $36,000, the MKZ Hybrid also earns an impressive 45 mpg combined.
Mercedes-Benz S400 Hybrid


Combining top-of-the-line accoutrements with an efficient yet powerful V6 mild-hybrid, the Mercedes-Benz S400 Hybrid is the rare full-size sedan that is both luxurious and eco-friendly.
Ford Fusion Hybrid


Ford claims that this commuter sedan can operate at 47 mph in pure electric mode, and that its range in urban settings is more than 700 miles on a single tank of gas. Along with a powerful NiMH battery, this green-minded car features the SmartGauge, a futuristic display panel that shows real-time driving performance data.
Lexus GS 450h

Unusual to its class, this quiet-driving luxury sports sedan balances raw performance with a hybrid powertrain, and is capable of accelerating to 60 mph in just 5.3 seconds. Inside, the GS 450h exhibits a posh leather trim; powered, heated and ventilated front seats; and a ten-speaker premium sound system.
Nissan Altima Hybrid

Limited in availability, this attractive hybrid sedan blends performance and comfort with fuel economy. Capable of up to 35 mpg, this low-emission car looks and feels like a conventional sedan, albeit one that rarely needs a refill.
Toyota Prius v


Offering 67.3 cubic feet of cargo space, this bigger, more versatile Prius is also big on fuel savings. Featuring Toyota's advanced Hybrid Synergy Drive, this smart station wagon gets upwards of 40 miles to the gallon.
Read All Car Reviews