Function Drinks
Sweet, Sweet Science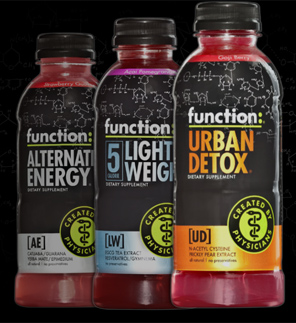 Finally, a diet drink designed by an actual MD. Co-created by Dr. Alex Hughes, clinical instructor and attending in spinal surgery at Weill Cornell/New York Presbyterian Hospital and Assistant Attending Orthopedic Surgeon at the Hospital for Special Surgery, who also holds a Biomedical Engineering degree, Function Drinks draws from mainstream clinical science and the latest beverage know-how. The "Functions" include Light Weight, designed to boost metabolism and burn calories; Water, which is vapor-distilled and supplemented with minerals and electrolytes; Urban Detox, to fight pollutants of city living; and Alternative Energy, for a healthy option to carbonated, sugary energy drinks.

Speaking of sugar, not only are Function drinks all natural, but they taste good, too. With most diet drinks, taste is compromised for health, but Function: Light Weight's saving grace is sucralose, a low glycemic sweetener that is one of the safest low-caloric sweeteners available. With flavors like Prickly Pear, Açai Pomegranate and Strawberry Guava, taste was clearly a consideration in the creation process of this line of bottled beverages. Although the aftertaste is a bit chalky, it is a vast improvement over most dietary supplements.
Price: $1.99 per individual 16.9 oz. bottle, and $25 for 12-bottle case.
For more information and to purchase, visit www.functiondrinks.com.
Reviewed by Cara Trump
Health Features

Health Main Page
| | |
| --- | --- |
| PCT022210 | (Updated 02/26/10 CT) |