Bagus Jati - Spa Review
A Piece of Eternity
by Evelyn Chen
Unlike the ever-popular cultural town of Ubud, Tegallalang seems like an unlikely travel destination. Local craft shops hawking mostly Balinese-made wood carved sculptures deck both sides of the dual lane roads, which are no more than three to four meters wide. The air is polluted with car fumes, and vehicles parked sporadically along the roads caused the resort van to veer suddenly many times. It did not help that the van's ventilation system was not working at its peak. The journey up north of Ubud just did not prepare us for what we were about to see and experience at Bagus Jati.
Indicated even in the name—Bagus Jati is bahasa Indonesian for "doubly good" or "very good"—the resort was built with health and well-being in mind. Located at 700 meters above sea level, the resort is about thirty minutes north of Ubud. Resting on five hectares of well-manicured terraced gardens and organic farmland, eight circular villas rest here while another ten are being constructed in an environment that is totally unspoiled.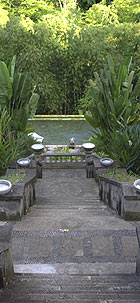 Serene Spa Steps
Each room is equipped with a sunken Jacuzzi tub and a private double-bedded treatment room. We suspect the latter is under-utilized as the property has a gorgeous spa. A generous balcony with deck chairs and a dining table provides a romantic setting in the evening for in-room dining. By night, see-through drapes surround the bed, hung from a rectangular bamboo pole suspended from the ylang-ylang thatched roof. Strategically positioned lights cleverly illuminate the room, revealing a soft appeal that is dramatically different from its daytime facade. The hot and cold water taps in the shower and bath areas were not working optimally during our visit but that did not dampen our spirit; in an atmosphere of serenity, all we wanted to do was soak in the beauty and be at peace.
A three minute buggy ride further down the valley brings you to the Sejati Spa. Located on an escarpment, the spa lobby is quiet with the exception of sounds from the lush rainforest surroundings. A flight of steep stairs descends to a landing overlooking the resort pool with a dark hallway leading to four treatment rooms on the right. To the left are two consultation rooms as well as locker and shower facilities. We asked to try a signature treatment and were recommended the "Jati Sejati."
Bale Roof
"Jati Sejati" means "true" or "eternity" in Balinese. The two-and-a-half-hour traditional Balinese treatment is used to warm the body during the monsoon season. It is also often used as therapy for those coming down with cold, flu, rheumatism or fever. Our treatment room was cleverly designed to make use of its limited space with the hydrotherapy tub doubling as a massage table. Bagus Jati's trademark see-through drapes hang from a rectangular bamboo pole above the bed while wood framed picture windows open out to a plunging valley filled with matured greens below. The breathtaking view and the crisp, fresh air more than compensated for the room's small size.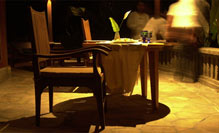 Room Service
The treatment begins with a warm footbath in water infused with essential oils of tangerine, ginger and peppermint. Your feet are cleansed and brushed before the Balinese massage begins to the relaxing backdrop of rustling trees, birds and a cool mountain breeze. The massage is followed by a tub bath with Madura island rock bath salt and a warm brew of ginger, turmeric, ylang-ylang root and sandalwood to the bathtub; the soak is said to help open up the pores in preparation for the next treatment. While in the tub, we peered out into the open forest and enjoyed an exquisite cup of hot ginger tea with kaffir lime, perhaps the most aromatic ginger tea we've ever had. After twenty minutes, Tiny came in to drain the tub and prepared the bed with fresh banana leaves for the herbal body wrap. Next, a cooling paste comprising a blend of ginger, clove, lemongrass, grated coconut and brown rice was painted on the body. The banana leaves were then enveloped around the body to form a cocoon. Within the next five minutes, the cool paste started warming up. We could feel a gradual increase in blood circulation as the paste started heating up. The feeling was sensational, though it became quite hot towards the end.
Dining Area
Besides a divine spa, Bagus Jati is home to Surya restaurant. It exudes an informal country charm with a fireplace as the centerpiece, providing warmth to diners during the cooler seasons. Surya's menu is a mix of healthy organic foods as well as popular Indonesian fare, and its spa cuisine selection is pleasantly surprising. The chef cleverly uses local herbs to spice up the light dishes here. The Tofu and Tempe Garden Salad, drizzled with Surya's secret homemade dressing, is a winner; the blend of healthy Indonesian ingredients with fresh organic vegetables served Western-style struck the right cord. If you are not watching your waistline, try the Indonesian nasi goreng. It is one of the best we've tasted in Bali.
At leisure, you may wish to take a walk around the organic farmland or hike down to the spring water pool or even deeper down, to the Jati sacred waterfall. For relaxation, try the Jati Bare Foot massage, a unique treatment that you won't find in most other spas in Bali. To spoil yourself a little more, opt for the Jati Sejati ritual; this is an indigenous body wrap treatment that puts highly commercialized mud wraps to shame. Bagus Jati is a hideaway in every sense, perfect for relaxing and getting away from it all, de-stressing or spending time with your loved one, but definitely leave the kids at home.
Bagus Jati
Banjar Jati, Desa Sebatu, Kecamatan Tegallalang
P.O. Box 4 Ubud, Gianyar 80572
Bali, Indonesia
Tel: 62 361 978 885
Fax: 62 361 974 666
info@bagusjati.com
www.bagusjati.com
Evelyn Chen is a Singapore-based freelance travel writer whose work has also appeared in About.com's go asia channel and spa site. She travels regularly to spa destinations in South East Asia and has reviewed numerous award-winning properties in the region.
* Images courtesy of Alex Ang