THIS RESTAURANT IS CLOSED de Santos
139 W. 10th St.
Send to Phone
212-206-9229
| Make Restaurant Reservations
Quasi-creative Italian via Puglia and Mexico.
Open

Dinner nightly

Features
Dress code: Casual
Reservations suggested
* Click here for rating key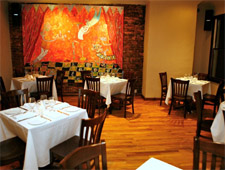 THIS RESTAURANT IS CLOSED de Santos Restaurant Review
: Alex Gonzalez is the drummer of the popular Mexican rock band Maná, but if he ever quit his day job, he'd make a good restaurateur as well. De Santos, located on a leafy West Village block, is Gonzalez' fourth eatery, and the first in the U.S. (the other three are in Mexico). The real star of the show here, however, is chef Aldo Alo, who hails from Puglia. His menu, separated by antipasti, pasta and secondi, looks fairly classic on paper, but most dishes have a slight creative flair: the buffalo carpaccio with soft Robiola cheese gnocchi presents a thoughtful fusion of flavors and visual appeal (the components are arranged to depict a flower). The whole-wheat pappardelle with lamb ragù is rib-sticking good, but the trofiette with mushrooms, garlic and shaved Parmigiano is complex and memorable. Main courses include a flaky hazelnut-encrusted swordfish (accompanied by spice-accented corn) and tender lamb chops complemented by fresh blueberries. The all-Italian wine list includes a few rare varietals not often found on these shores.