THIS RESTAURANT HAS CHANGED LOCATIONS Morton's The Steakhouse
7822 Bonhomme Ave. (Central Ave.)
Send to Phone
314-725-4008
| Make Restaurant Reservations
| Menu
Steakhouse chain in Clayton provides fine beef with all the requisite sides.
Open

Dinner nightly

Features
Valet parking
Dress code: Ties suggested
Reservations suggested
* Click here for rating key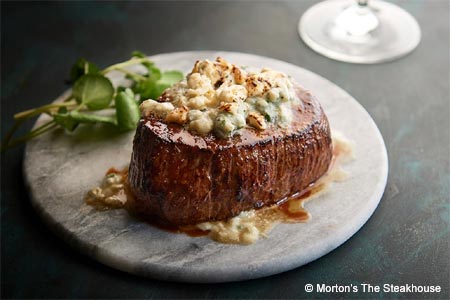 THIS RESTAURANT HAS CHANGED LOCATIONS Morton's The Steakhouse Restaurant Review
: From start to finish, an evening at Morton's is a special experience. Service is professional, as one would expect at this price point, and conviviality reigns in the dining room. The interior is dark and glossy, with an open hearth that allows some diners to watch the kitchen working over the Prime beef, lamb, pork and lobster. Beef is topnotch, from the double-cut filet to the rib-eye, and it's what draws most of the diners. Also noteworthy are the baked whole lobster and the braised beef short ribs paired with jumbo scallops. Everything except the bread and butter is à la carte, including seven potato sides and around a dozen grilled, sautéed or creamed vegetables. Very much in line with the luxe experience are the dessert soufflés. Each location offers a customized wine list of at least 200 bottles overseen by a certified sommelier, and the staff knows more than average about the selections.