Pica Pica Maize Kitchen
401 Valencia St.
Send to Phone
415-400-5453
| Make Restaurant Reservations
|
Order Now!
Casual eatery pairing a variety of corn breads with savory fillings.

Open

Lunch & Dinner daily
Open late Fri.-Sat.

Features
* Click here for rating key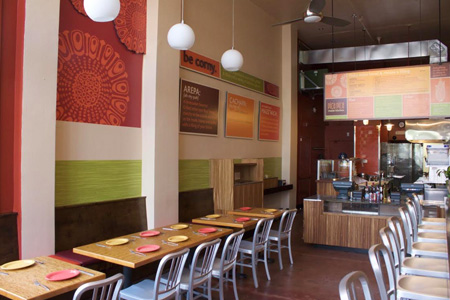 Pica Pica Maize Kitchen Restaurant Review
: At first glance, Pica Pica Maize Kitchen might appear to be just another taquería, but it's not even close. Rather, this casual corner spot with its high ceilings and modern design offers authentic dishes from Venezuela. Here's how it works: three different kinds of corn bread are offered, each stuffed with a savory filling. For example, the arepa, a corn flour cake akin to pita bread (but spongier), can come stuffed with tender pulled pork, aïoli and sliced fresh avocado. The maize'wich---two thin, soft corn rounds---may sandwich skirt steak smothered in cheddar cheese. The clear winner, however, is the cachapa, a cross between a crêpe and a griddle cake, a dense bread wrapped around fillings such as chicken sautéed in sofrito, an aromatic tomato-based sauce. The restaurant's name translates into "a little bit of this, a little bit of that," a concept best seen in its appetizers and sides, where folks will have a hard time choosing between addictive empanadas stuffed with tilapia or queso fresco, yuca fries or sweet plantains. For dessert, patrons can sip a cup of spicy hot chocolate made from Venezuelan chocolate.
San Francisco Top 10 Restaurant Lists
| | |
| --- | --- |
| Discover the top restaurants in the San Francisco/Bay Area for various cuisines and categories like sushi, steakhouses, happy hours, romantic dining and even gourmet food trucks. Find the best restaurants in SF here! | |