Don Eduardo - Tequila Review
A Taste of Mexico
by Nancy Huang
From the tiny village of Tequila in Jalisco, Mexico comes a surprisingly versatile and flavorful spirit called Don Eduardo, a brand made by Casa Orendain, a company run by one of the oldest tequila-making families in the industry. This high-class brand takes its name after Eduardo Orendain, a third-generation producer who brought the company to the forefront of tequila production.
Casa Orendain, which harvests and distills the liquor right in Tequila Village, prides itself on using 100 percent blue agave, a plant unique to this region of Mexico and the sole ingredient in making authentic tequila. The company also employs skilled jimadors, or expert harvesters, to make sure nothing contaminates this precious plant.
After cooking and juicing the harvested agave, this Reposado, or rested, tequila, is double-distilled to concentrate its flavors. The liquor is then rested for eight months in vats made from Oregon pine, which helps to develop its exceptional flavor. This careful process of harvesting and distilling shows in the tequila's taste, which is both sweet and smooth.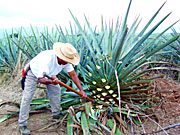 A jimador carefully cuts away thorns from a blue agave plant.
This tequila is particularly fresh, with light floral and fruity undertones on the nose. On the tongue, it is especially smooth and fruity, with only a hint of spice. The finish is long, with a surprising lack of heat common to most tequilas. Its light yellow color, characteristic of most Reposados, differs from Silver tequilas, which are bottled immediately after distillation.
Surprisingly, the Reposado is not only a good drink and cocktail mixer, but can be used for flavoring as well; it's distinct flavor adds an interesting twist to your favorite Mexican dishes. Try it in guacamole, chicken or gazpacho soup. Just don't forget to save some for a sweet margarita or spicy sangrita as an after-dinner cocktail.
Price: $43 for a 750ml bottle
For more information, visit www.tequila-orendain.com.
COCKTAIL RECIPE
Grand Eduardo Margarita

1.5 oz. Don Eduardo Tequila
1.5 oz. orange liqueur
Fresh lime juice
Fresh lemon juice

Pour all ingredients into a blender with ice, blend until firm. Pour into a margarita glass and garnish with lime.

For more on cocktails, see Cocktail Books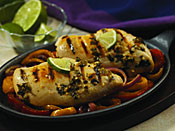 FOOD RECIPE
Margarita Marinade
Juice from 3 limes
1/2 bunch of fresh cilantro chopped
1 clove fresh garlic, minced
2 tbsp. Don Eduardo Tequila
1/2 tsp. cumin
1 jalapeño, finely chopped
1 tbsp. olive oil
In a small mixing bowl, muddle cilantro, garlic, cumin and jalapeño until it becomes a thick paste. Add tequila, lime juice and olive oil. Use this marinade on chicken, fish or other seafood dishes.
For more on cooking and food, see our Cookbook Reviews
---