Editor's Note:
This vodka is no longer produced.
Lotus Enhanced Vodkas - Review
Medicine for the Cabinet
by Jeff Hoyt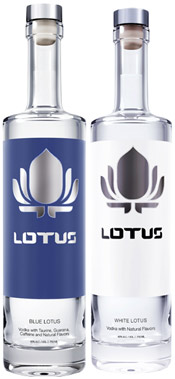 As kids, our parents used to try to get us to take our vitamins by offering them in the shape of The Flintstones characters, as if biting the head off Barney was an incentive to maintaining health. Robert Bailey has a different way to get adults to take their vitamins: put them in vodka.
The CEO and founder of Lotus Vodka has introduced a new line of enhanced spirits. The first, White Lotus, is infused with vitamins including B3, B6, B9, B12 and C. Its younger sibling, Blue Lotus, contains ingredients usually found in energy drinks, like caffeine, taurine, and guarana, and appears to be geared toward the younger, Red-Bull-and-vodka-swilling club crowd. Both clear, 80-proof, triple-distilled vodkas look the same to the eye, but the tongue can tell them apart.
Chilled, the White has a light mouthfeel, with a slight taste of alcohol and a first swallow that warms on the way down. It mixes easily in cocktails, where its flavor is quickly overwhelmed. Blue has a more distinctive flavor, both alone and when mixed, and even stands out through fruit juice. It has a slightly heavier mouthfeel, and no alcoholic burn, with a hint of cool spice.
Although they can't advertise it, Delicious Brands believe their line of vodka fights hangovers. Sadly,our studies in the field did not prove that to be the case.
Future products planned include Purple, Black and Silver Lotus Enhanced Vodkas. In Buddhism, lotus flowers symbolize purity, longevity and prosperity. Delicious Brands hopes their pure Lotus Vodka line will enjoy longevity in the marketplace and lead to prosperity for them. And they're willing to share the wealth, promising a portion of their profits to charities that promote health and the arts in San Francisco, their home base.


Price: $30


Try this Mexican twist on the Bloody Mary:
COCKTAIL RECIPE
Santa Maria

2 oz. spicy V8 juice
2 oz. fresh tomato juice
2 oz. fine reposado tequila
1 oz. White Lotus Vodka
3 dashes Worcestershire sauce
1 dash Tabasco sauce
1 pinch celery salt
1 lime wedge
1 pickled chili pepper

Fill a tall glass with ice. Add juices, tequila, Lotus Vodka, Worcestershire sauce, Tabasco and celery salt. Stir. Garnish with lime wedge and chili pepper.


Related Content:

Top 10 Vodkas

Top 10 Flavored Vodkas

Top 5 Energy Drinks