Louis XIII de Remy Martin Cognac - Review
A Royal Drink Indeed
by Alain Gayot
Louis XIII de Rémy Martin Grande Champagne Cognac
With three centuries of Cognac making under its belt, the Rémy Martin family certainly has perfected the art, and nowhere is this more clear than with its top-of-the-line offering, Louis XIII de Rémy Martin.

"Louis XIII is not a Cognac," they say at Rémy. "Put simply, it's a moment." Why is it a moment? Figure this: each bottle is a blend of 1,200 Cognacs, ranging from 40 to 100 years old, across three generations of Cellar Masters, resulting from the combined labor of 10,000 people.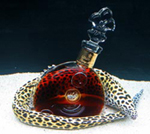 Luxury meets Exotica: A Moray Eel Guards a Bottle of Louis XIII de Rémy Martin.
The philosophy of Cognac is terroir. According to Rémy Martin's philosophy, if you start with fine grapes from the best vineyards, sift through the proper and best eaux de vie, and then blend them artfully, you will get a fine Cognac.
When introduced to America in 1878, Rémy Martin — and Cognacs in general — had been reserved for gentlemen clubs. In the past decade, however, inadvertent promotion by hip hop artists (such as Busta Rhymes' song "Pass the Courvoisier") has boosted U.S. Cognac sales, shifting the popularity of the drink from the elite to the hip hop crowd. Rapper Jay-Z's New York sports bar, The 40/40 Club even includes a "Rémy Lounge," in salute to his favorite brand.
The packaging of Louis XIII shares almost as much history as the Cognac itself. The idea for the glass came from an old bottle found by Emile Rémy Martin on a Jarnac battlefield. Since then, the carafe has evolved into its distinguished shape, manufactured by Baccarat since 1936. A solid gold collar encases the neck, which is adorned by a signature fleur-de-lys crystal stopper. Its Baroque-style glass and design may have been the inspiration for the name Louis XIII, a French king who ruled during the Baroque era. It is also noted that the Rémy Martin family had close connections with King Louis XIII, which serves as another explanation for the Cognac's name. Also of note: the exquisite red box that the bottle comes in is the first new design in 25 years.
As for taste, this Cognac boasts only the finest flavors. You are greeted by a noble deep amber color. On the nose, there are aromas of delicate flowers, rich fruits and intense spices. On the palate, Louis XIII is almost like a world journey, with flavors of lychee, Cuban cigars, cinnamon and ginger lingering on the tongue. Since the suggested retail price is $2,200 per 750 ml bottle, you'll want to savor each sip pure and unadulterated.

Remy Martin also produces V.S.O.P., XO and Extra, along with market-specific products, such as 1738 for the U.S. For more information, visit www.remy.com
Louis XIII Black Pearl Limited Edition

Black Pearl is a limited edition cognac from Rémy Martin's stock of Louis XIII. Only one tiercon (a type of oak barrel) will be used, meaning only 786 bottles are available for purchase. The custom decanter, hand-crafted by artisans at Baccarat, is black crystal with platinum accents. The Louis XIII cognac inside contains a blend of more than 1,200 lots up to 100 years old. Initially available for purchase by invitation only at a price of $8,000, Black Pearl sold out after just two months. Individuals bottles now sell for about $27,000 on the resale market.
Interesting Cognac Facts:
• Rémy Martin does not release the number of Louis XIII bottles produced a year; it is a company secret.
• Asia is one of Rémy Martin's largest markets. Enthusiasts enjoy their Cognac mixed with soda or green tea.
• The United States is the second largest market for Cognac after Ireland.
• Hip hop culture has had a dramatic influence on the Cognac industry in the past decade: approximately 60 to 80 percent of Cognac drinkers are black.
• The hip hop crowd has also popularized cocktails made from Cognac, which is usually served alone. Approximately 60 percent of all Cognacs are consumed mixed with Sprite or Coke.
• Other countries are following suit with the Cognac cocktail: a favorite in Russia is to mix Cognac with Bourbon and Coke.
How Much?
The following are examples of prices for a 2 oz. serving of
Louis XIII in cities around the world.

MILAN: Principe di Savoia, $362

PARIS: Citrus Étoile, $240

RIO DE JANEIRO: Antiquarius, $300

SANTA MONICA, CA: Michael's, $160

SCOTTSDALE, AZ: Mastro's City Hall Steakhouse, $135

SYDNEY: 41 Restaurant, $170

TORONTO: Avenue Bar at the Four Seasons, $120

VENTURA, CA: Watermark, $290
Remy Martin Louis XIII Rare Cask 42.6

Remy Martin Louis XIII Black Pearl Limited Edition

Remy Martin Grande Champagne 1989 Cognac
---
Top 10 Cognacs

Top 10 Spirits

More Spirits
(Updated: 08/02/13 BH)