Partida Agave Nectar - Review
Drink Outside the Box
Those looking for an alternative to the traditional Margarita, which typically includes an orange liqueur such as Cointreau, might enjoy a Partida Margarita. Made with 100 per cent organic agave nectar, the Partida Margarita cuts down on calories and alcohol content, resulting in a healthier, all-natural beverage. Extracted from the blue agave plant, the nectar features a lower glycemic index than sugar while maintaining the same sweetness and solubility.
For more information on Partida's Agave Nectar or their selection of tequilas, visit the Partida Tequila official website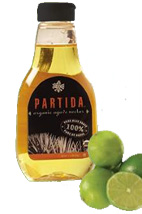 Partida Agave Nectar
COCKTAIL RECIPE
Partida Margarita

Pour into iced shaker:
1½ ounces Tequila
1 ounce freshly squeezed lime juice
¾ ounces Partida Agave Nectar
¾ ounces pure water

Shake all ingredients with ice. Add lime juice or agave nectar to taste. Serve on the rocks, no salt.