Pau Maui and Island 808 - Vodka Reviews
Potable Pineapple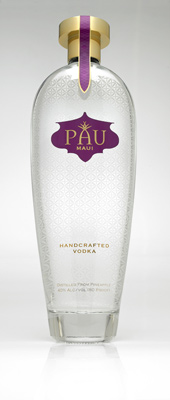 Pau Maui Vodka is made entirely from pineapple
When we think of vodka and pineapple, many good things come to mind: a tropical cocktail that combines the neutral spirit with pineapple juice, preferably served with a tiny umbrella; a pineapple-infused vodka; or biting into a pineapple that's been soaked in vodka for an adult tropical treat. But we never thought of vodka actually made from pineapple!
Truth be told, vodka can be distilled from any starch- or sugar-rich plant matter that ferments. We've tried vodka made from potatoes, grapes, wheat, rye, corn and other assorted starter ingredients. But the LeVecke Corporation has come up with two lines of vodka made from pineapple: Pau Maui and Island 808.
There's no way to forget the origin of Pau Maui Vodka. Each individually-numbered bottle bears a pineapple skin design, while pineapple leaves adorn the "A" in "PAU" in the logo. The 80-proof premium vodka is distilled from Maui Gold pineapple in unique pharmaceutical grade glass stills. Since nothing comes into contact with the vodka but glass, the makers at Haliimaile Distilling Company claim no other flavors are imparted in the vodka. The distillation, the blending with Hawaiian spring water and the bottling are all done on Maui.
The result is round and smooth, without a hint of its tropical fruit origins. Although there was no chemical aftertaste as found in cheaper vodka, the finish was a little rougher than we'd like. Ironically, Pau Maui's tagline is "finish with style," as "Pau" is Hawaiian for "done" or "finished."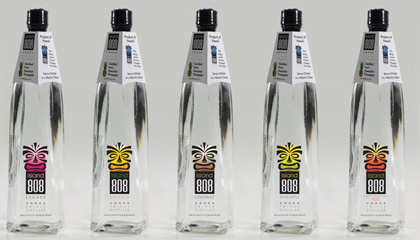 Island 808 Vodkas come in five different flavors
If you're seeking pineapple flavor, try one of Island 808's vodkas, or rather, two of them. Besides the basic, unflavored 80-proof spirit, there are five other flavored vodkas: pineapple, pineapple-orange-guava, mango, coconut and lychee. They are all made from Hawaiian pineapple, triple-distilled in Hawaii, and then blended and bottled in California to keep the price down. Our favorite is the pineapple-orange-guava, which is quite fruit-forward with a delightful guava aftertaste. It works well on the rocks, or can be mixed in a cocktail, like the Hula Girl.
by Jeff Hoyt
Price: Pau Maui $30 (750 ml) or $15 (375 ml); Island 808 $15 (750 ml) or $22 (1.75 l)
COCKTAIL RECIPE
Hula Girl

1.5 oz Island 808 Pineapple Orange Guava (POG) Vodka
3 oz 7 Up

Pour Island 808 POG Vodka and 7 Up over ice. Garnish with a wedge of pineapple and an umbrella.
For more information, visit www.paumaui.com and www.808island.com
More Vodkas

Top 10 Vodkas

More Spirits
| | |
| --- | --- |
| PBH080411 | (Updated: 08/10/11 BH) |