Tequila Tezon - Review
Blue Crush
by Jeff Hoyt
While high-tech production methods often lead to high profits, they don't necessarily produce a better product. Henry Ford's assembly line may have revolutionized the automotive industry, but isn't Grandma's homemade pie more appetizing than mass-produced supermarket fare?
The makers of Tequila Tezón hope that people will be willing to pay more for a hand-crafted product. They are proud that the production process behind their new line of super-premium tequilas is labor-intensive and low-tech.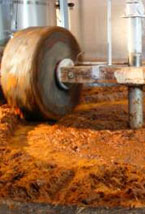 Volcanic millstone wheel
"Tequila Tezón is unlike any tequila available in the U.S." explains Kevin Fennessey, Senior Vice President of Marketing for Pernod Ricard USA. "There is no other tequila available here which is produced in this scrupulous way by our team in Jalisco. We're living in a world increasingly dominated by automation and Tequila Tezón offers an occasion to recall an era long gone, when hand-craftsmanship was paramount."
Pernod Ricard, which also imports The Glenlivet Single Malt Scotch Whiskey, Stolichnaya vodka, Mumm and Perrier-Jouet Champagnes, claims that Tequila Tezón is the only exclusively Tahona-processed tequila available in the country. Tahona refers to an ancient, authentic volcanic millstone technique. All of the blue agave is grown on the distillery's grounds in the mineral-rich, red soil of Jalisco, Mexico, instead of being purchased from individual farmers. After the plant is hand-selected, harvested and roasted in brick ovens for three days (three times longer than the automated method), a colossal crushing wheel, fashioned from tezontle (Mexican volcanic stone) and weighing up to two tons, is employed to pulp it.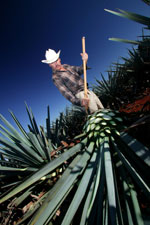 Blue agave harvest
Once the crushing is complete, most distillers discard the pulped agave fibers. Tequila Tezón keeps the juices and fibers together for the three-day fermentation and first distillation, resulting in a more flavorful product.
All of the three offerings in the line, which is being launched in the United States this month, are 100 percent agave. The $50 Blanco, which is not aged, is clear, with a pepper nose and oily mouth feel. Its vanilla, honey and spice flavor and lingering finish make it better suited for a margarita than for drinking straight. A better bet is the $60 Reposado, which is aged 8 to 10 months in seasoned white oak barrels. It has a pale gold color and a pepper, citrus and wood nose and is more viscous than the Añejo, with a spicy flavor that carries a hint of alcohol and smoke, and a long, satisfying finish.
The star of the line, the $70 Añejo, aged 18 to 20 months, has a golden amber color, orange peel nose and a silky mouth feel. The oldest of the family has a butterscotch and vanilla flavor, with a hint of oak. It ends with a long rich finish, with no alcoholic burn, and is excellent for sipping.

Try the clear Blanco in a refreshing concoction paired with a Mexican beer!
For more information, visit www.pernod-ricard.com.
COCKTAIL RECIPE
Baha Gold

Pour into iced shaker:
1 shot Tequila Tezón Blanco
½ shot fresh lime juice
½ shot Simple Syrup

Strain into chilled glass.
Top off with Mexican beer.
Add a pinch of salt and a twist of lime peel.
| | |
| --- | --- |
| P062006 | (Updated 06/08/07 JW) |