Business Travel Guide: Montreal, Canada
Multi-cultural neighborhoods, a French elegance and a vibrant cultural scene add a creative edge to the city's business atmosphere. Le Vieux Montreal, at one time the core of commerce and finance, is today a warren of boutique-lined cobblestone streets with a view of the St. Lawrence River, dominated by the Notre Dame basilica and the World Trade Centre. An array of art galleries and swanky restaurants are great for business lunches or meetings in this neighborhood. Major business is conducted also in Le Quartier du Musée, a fashionable area which conceals the city's most unusual neighborhood, Montreal's famous underground city. When winter storms rage above, one can seek round-the-clock refuge in its 20 subterranean miles of offices, shops and hotels.
Facts to Know Before You Go
Currency:

The Canadian dollar is constantly being measured against its U.S. counterpart, and frequently hovers at almost at-par rates. Currency can be exchanged at booths in the heart of downtown, at banks or at your hotel reception desk. You will most likely get the best rate by simply withdrawing Canadian dollars with your Visa Debit Card at an ATM. While stores do accept U.S. dollars, you may pay a premium. The Canadian dollar itself is no longer paper; it's a large gold-colored coin nicknamed the "loonie" because it features the Spotted Loon, a beloved aquatic bird of northern lakes. A distinctive two-tone $2 coin, larger and heavier than the $1 coin, goes by the nickname "toonie" because it rhymes with loonie. Visa is accepted at virtually all retail shops, restaurants and fast-food eateries.

Transportation:

The main airport serving Montreal is Montreal-Pierre Elliott Trudeau International Airport (www.admtl.com), formerly known as Dorval. The facility is located 20 kilometers (12 miles) from Montreal's downtown. Taxi and limo service are available near the arrivals hall with fares running from $40-$50 to most downtown locations. A bus service is operated by La Quebecoise (www.autobus.qc.ca), which runs a downtown service hourly or every half-hour during peak hours. Bus service runs between the airport and Berri station, stopping at the Fairmount Queen Elizabeth, the Marriott Chateau Champlain and the Sheraton Montreal. Other hotels are serviced with a free mini-bus from Berri station. Public transportation into town is shamefully cumbersome, but possible using the 204 and 209 busses. Late or early (before 6 a.m.) arrivals are not served by public transportation.

Information:

The Montreal Gazette (www.montrealgazette.com) is the city's main English-language daily, and is published every morning except Sunday. Hour (www.hour.ca) is a weekly free newspaper focused on entertainment, music and film. French-language dailies include La Presse (www.cyberpresse.ca) and Le Devoir (www.ledevoir.com), while Voir (www.voir.ca) is the local weekly. The main business magazine for Quebec is the French language weekly L'Actualité (www.lactualite.com). Canada's national newspaper is the well-respected The Globe and Mail (www.theglobeandmail.com), which is published Mondays through Saturdays.
Château Versailles boasts a history as rich as that of the city it inhabits. Located on the grounds of a religious order of distinguished French aristocrats, the Château consists of a series of townhouses elegantly renovated by designer Patricia McClintock. The hotel takes on her flair for the exotic—shades of saffron and tangerine, Arabesque fabrics and Matisse-inspired paintings adorn the 65 bedrooms and suites. This historic property also features a variety of original art pieces by area artists, unique original crown moldings and oversized fireplaces. The hotel has modern amenities, including a restaurant, in-room data ports and video games, a business center, and a gym and sauna.
For anyone doing business at the World Trade or Convention Centres, the best accommodations are in one of these 357 air-conditioned rooms, including 23 suites. With 24-hour room and concierge service, three telephones per room and an excellent voice mail system, you need step outside only for the view. There is one restaurant and bar inside and each offers wonderful fare that brings out the distinct flavor of Quebec cuisine. The beautiful property is designed in a contemporary style and is just steps from the cafés, restaurants, clubs, and lounges of Old Montreal. It's also a snap to check out the many surrounding attractions including the activities at the Old Port.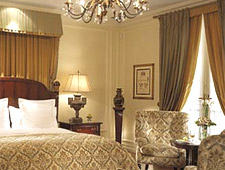 Brimming with antiques, objets d'art, French tapestries and fine art, Hotel Le St-James is an exercise in opulence. The 1870 Second Empire period property, in a former bank building in historic Old Montreal, also enjoys a superb location—within walking distance of the Old Town area, the city's downtown and excellent restaurants, shops, museums and night clubs. Here, the privileged few will enjoy 60 lavish rooms decorated with handsome baroque furnishings and enhanced with Frette linens, Molton Brown of London bath amenities, and a LCD TV. The hotel also has a library of historical and popular books. The hotel's XO Le Restaurant offers fine dining that matches the splendor of its surroundings. (Of note is its elaborate brunch menu which changes weekly.) If you simply want to relax, Le Spa is an atmospheric space converted from a vintage bank vault into a room with an original brick ceiling and a lighted onyx floor that's also heated.
Le Centre Sheraton Montreal Hotel, located in central Montreal, is more than a place to sleep. The hotel's lobby buzzes with energy, while staff and bell-hops seamlessly switch from English to French. Business travelers can hold impromptu meetings on cushy couches. On the ground floor is Le Café Bar, a large, open space serving snacks and cocktails. Bookshelves, dark hardwood flooring and candle-lit tables create an inviting ambiance. The bar attracts large after-work crowds. Rooms have beds with large headboards, sprawling mattresses and plush furnishings. There is an indoor pool, sauna, whirlpool, fitness center and massage service.
A luxurious hotel in the bustling business district, Loews has 142 well-appointed guest rooms and attracts business travelers with its variety of up-to-date meeting rooms and executive boardrooms. Across the street from the Hotel de la Montagne, the Loews Hotel Vogue is the more stylish, modern and refined option of the two. After work, guests can take in the nearby culture and nightlife and then retire to a room with a whirlpool bath and glassed-in shower, canopy bed and European bedding. Rooms feature smart color schemes; light green wallpaper is accented by a bedside plant in one room and plush crimson throw pillows match the drapes of the canopy bed in another. The marble bathrooms are equipped with relaxing jet spa bathtubs and glassed-in showers. L'Opera Bar, on the lobby floor, serves cocktails to guests and Montreal's business professionals while offering Italian-inspired fare for breakfast, lunch and dinner.

Business tycoons and the members of Canadian politics treat this Montreal institution as their private club, indulging in juicy steaks. The menu might also include specialties like chateaubriand and pan-seared loin of deer. The Beaver Club's gregarious waiters and maître d' help navigate the 23-page wine list, which focuses on France and California, and also includes selections from Canada, Spain, New Zealand and South Africa. They might help you choose a winner like the Gewurztraminer, cuvee comtes d'Eguisheim, Leon Beyer, 1998; a nice accompaniment for the foie gras, by the way.
This isn't the first place you think of for Stone Crabs, but you'll find them here in season. You may find Madonna, too, if she's in town. Costas Spiliadis' recreated Aegean fishing village is a sanctuary for peerless ingredients: If fresh sardines are available, he'll find them.
At Montreal's best-known steakhouse, the house-aged beef with Moishes' French-fried onions has inspired customer loyalty. The old-time waiters not only know your name, they know your birthday. The restaurant features a beautiful tin ceiling, brick walls, and chandeliers designed by Patty Xenos.
This hip restaurant in Old Montreal features contemporary French cuisine, fresh produce and specialties such as tartare smoked bison, confit vegetable lasagna and roasted guinea fowl breast. A prime spot for business dinners, the décor here is elegant, the atmosphere affable and the fare among the best in Montreal.
The Biodome
4777, ave. Pierre-De Coubertin
Montreal
514-868-3000
www.biodome.qc.ca
An oasis in the heart of the city, the Montreal Biodome recreates some of the most beautiful ecosystems of the Americas. Flora and fauna from tropical rainforests, the Laurentian forests, the Gulf of St. Lawrence and the Arctic and Antarctic ecosystems are represented at this unique space, which allows visitors to escape into a natural wonderland.

The Montreal Museum of Fine Arts
1379, rue Sherbrooke O.
Montreal
514-285-2000
www.mbam.qc.ca

A Montreal institution, The Montreal Museum of Fine Arts is one of the finest museum in Montreal. It includes collections of contemporary and classical Canadian art, European art, and decorative and Inuit art. A new pavilion is currently under construction, which will give more room for collections of archeology and art from Canada and Quebec. The museum puts on temporary exhibitions, while the permanent collection is free of charge.

Mount Royal
Smith House
1260, rue Remembrance
Montreal
514-843-8240
www.lemontroyal.com

A great place for a walk or a jog after-hours, Mount Royal Park was inaugurated on Victoria Day in 1876. As one of the few North American cities with a grand swath of green space, Montreal takes pride in this forest in the city. It's a great place to take a break from busy business life. Smith House, located at the foot of the mountain, is open all year round. Possible activities here include winter skiing and snowshoeing, jogging, or sunbathing in the summer.

The Mount Stephen Club
1440, rue Drummond
Montreal
514-849-7338
www.clubmountstephen.com
First built by George Stephen (a former president of the Canadian Pacific Railway) in 1888, this club, restaurant and meeting place is one of the city's most prestigious addresses. Located in one of the last intact mansions in the area, it is a beautiful example of late Victorian Renaissance architecture in North America. The Mount Stephen club also has an excellent restaurant. The space is a privileged place for business meetings and private gatherings, and you will certainly impress clients here.


Suite 701
701, Coté de la place d'armes
Montreal
514-904-1201
www.suite701.com
Suite 701, located in the Place d'Armes Hotel & Suites, is the "it" lounge/restaurant for Old Montreal. The mood is set by music from local DJ's and a Parisian hotel design influence. A small 20-person VIP room is available and can be set to your liking for a private event. Suite 701 is open every day of the year. Ask the mixologist on staff to serve you a delicious creation while you dine on modern-brasserie style breakfast, lunch or dinner.
Calling all oenophiles! GAYOT has picked the Top 10 Wine Routes in the World that offer beautiful views, miles of vineyards and, of course, good wine.
Park City is popular as a winter getaway, but it also makes for a fun summer destination. Here's a list of the Top 10 Things to Do in Park City in Summer that will keep you entertained.