AUSTIN TRIP DAY 2: The Zilker Botanical Gardens, Mckinney Falls State Park and Lake Travis
You've checked out the nightlife. Now it's time to soak up another major Austin attraction: nature. Parks and green belts create a verdant oasis in the heart of the Lone Star State.
Before you tackle the terrain, savor one of Austin's morning staples: breakfast tacos or migas. Ask any Austinite for the best spot for either and you'll get a passionate endorsement. Ask two and you'll likely start a good-natured fight, as there are literally hundreds of great spots, all with their legion of fans. Two standbys are Maria's Taco Xpress on South Lamar — which may have the best chorizo and egg tacos in Austin; gussy them up with pico or tart chimichurri from the salsa bar — or Cisco's, an Eastside enclave for half a century, where the migas attract politicos and visiting celebrities to the very humble digs. But don't linger too long — there's a full day ahead.
At the heart of Austin's network of more than 200 municipal parks lies the 358-acre Zilker Park. Joining wide open fields, picnic areas and sand volleyball is what many consider to be the soul of Austin: Barton Springs Pool. This huge, three-acre pool is supplied by natural artesian spring water that remains 68 degrees year-round. A chilly dip in Barton Springs will counter even the harshest heat a Texas summer can summon. If you'd rather not get in the water, this is one of three places that offers sightseeing canoe rentals on Lady Bird Lake. At the west end of the springs parking lot is one of the countless gateways into the Barton Creek Greenbelt, eight miles of trails with sheer cliff walls and forested vegetation that make you forget that you're in the heart of a city. During spring, you'll encounter creeks, swimming holes and small waterfalls everywhere along the trails.
For a more controlled affair with nature, visit the lush Zilker Botanical Gardens, featuring eight unique gardens interconnected by streams, waterfalls and Koi ponds. Find more stimulation and rejuvenation at Umlauf Sculpture Garden, where the typical art gallery setting is supplanted by nature. Well over 100 sculptures (most by sculptor Charles Umlauf) are set in an equally inspiring garden setting.
All the pleasant strolling will probably work up an appetite. Luckily, just outside the east entrance to Zilker Park is a row of casual restaurants on Barton Springs Road. The most popular is the aptly named Shady Grove, a perfect Austin spot for outdoor dining under a thatch of pecan trees. The menu features a little bit of everything: chili cheeseburgers, chicken fried steak, veggie sandwiches, killer nachos and chocolate pecan pie.
Keeping with the nature theme after lunch, a 15-minute drive southwest on Mopac (Loop 1) will take you to the Lady Bird Johnson Wildflower Center, a 178-acre botanical research center with expansive meadows of native plants and wildflowers. Or for a little more adventure, a 15-minute drive southeast to McKinney Falls State Park might be in order, where eight miles of trails await hikers, bikers, anglers and campers.
Be sure to save time for a drive to Lake Travis in dramatically hilly northwest Austin, which takes about 35 minutes from the Wildflower Center. Hopefully you will make it just in time for sunset cocktails at The Oasis, situated 450 feet above Lake Travis. The multi-tiered decks offer breathtaking views, and the crisp margaritas make the sunset that much more resplendent. There's a menu of Southwestern fare, but dinner can wait. You're here for the scenery.
Once the sun sets, mosey over to The County Line on the Lake for a Texas-size dinner of tender ribs, peppery sausage, or slow-smoked beef brisket with rich, tangy sauce.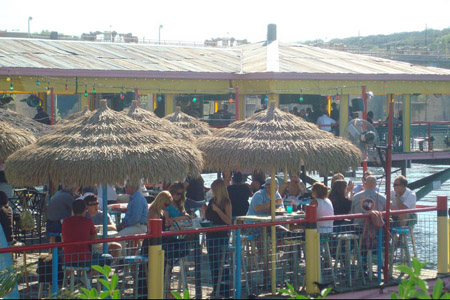 If you'd rather eat closer to your downtown hotel, but relish the thought of a water excursion, Lake Austin, though smaller than Lake Travis, sits on the western edge of town. Here, Hula Hut's "Mexonesian" fare — a festive fusion of Tex-Mex and Polynesian — could be calling you. There are two bars and outdoor dining built over the water. This is a cool perch for watching the boats and water skiers while enjoying chile-rubbed salmon tacos, beef fajitas or grilled Hawaiian chicken. Then again, you could enjoy fine dining waterside without leaving downtown at TRIO in the Four Seasons Hotel Austin.
* Pat Green image by Cambria Harkey, courtesy of Austin CVB. Cactus and Succulent Garden image courtesy of the Zilker Garden official website.
Plan a voyage to a tropical paradise aboard one of GAYOT's Best Caribbean Cruises.
Get the 411 on the City of Angels. Find the city's top hotels, restaurants, attractions and more with GAYOT's guide.