Chicago City Trip - Lincoln Park
CHICAGO DAY 2: Sightseeing Cruise and Lincoln Park Zoo
Once you manage to roll out of your plush bed, grab a cab and head to the Pilsen neighborhood for carnitas at Don Pedro. Served family-style with red and green salsas and heaping bowls of pico de gallo and pickled peppers, they're a fiery, design-it-yourself beginning to an active day.
When you've had your fill, kick things into gear with a sightseeing cruise. The Chicago Architecture Foundation runs several cruises daily from April through November aboard one of two 1920s luxury yachts departing from Michigan Avenue and lower Wacker Drive on the Chicago River at the Mercury Cruise Lines dock. They offer great insight into the city's signature structures. Chicago's skyline boasts styles from Beaux Arts to Art Deco and Mies van der Rohe modern. Among the more than 50 historic and architecturally significant sites you'll see on the 90-minute cruise are the Wrigley Building, the Tribune Tower and the Sears Tower. One note: it's wise to purchase tickets in advance.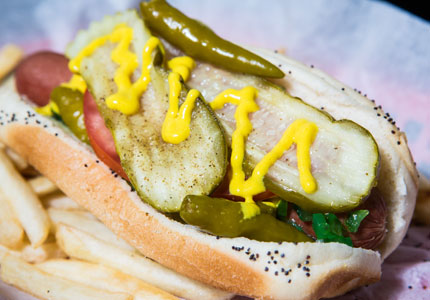 By now, you may be craving a Chi-town snack. Although it's hard to single out the "it" place for a Chicago-style hotdog, we're partial to The Wiener's Circle, a loud stand where the charred sausages — topped with pickles, tomatoes, raw onion, mustard and relish — snap between your teeth. Just know that gruff service here is considered part of its charm.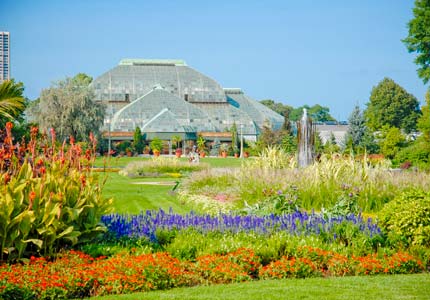 When your tummy is ready to burst, make fast tracks to Lincoln Park Zoo to work off some calories. This primal pit-stop, while not nearly as large as southwest suburban Brookfield Zoo, has serious appeal — not to mention complimentary admission and a flamingo habitat, sea lion pool and booming primate house. Once you've seen all the exhibits, take a stroll along the park's winding paths to the Lincoln Park Conservatory, with its breathtaking canopy of tropical palms and ancient ferns. Nearby, there's also the secret-feeling Alfred Caldwell Lilly Pool at the southeast corner of Fullerton Parkway and Cannon Drive. A historic, hardly frequented landmark, the space overflows with indigenous, non-invasive prairie, woodland and aquatic plants.
Soon, you'll be ready for a memorable dinner. With some advance planning, grab a table at Girl & the Goat, where Stephanie Izard plates inventive flavors for scenesters.
Crown your evening with comedy at The Second City. This longtime improvisational comedy school, boasting alumnae like John Belushi, Dan Aykroyd, Bill Murray, Chris Farley, Tina Fey, Steve Carrell and Stephen Colbert, among many others, features original comedy revues and student productions. You never know, you could end up watching the next big comedy star.
Plan a voyage to a tropical paradise aboard one of GAYOT's Best Caribbean Cruises.
Get the 411 on the City of Angels. Find the city's top hotels, restaurants, attractions and more with GAYOT's guide.