Disneyland City Trip - Orange County
DISNEYLAND DAY 3: Pacific Coast Highway, South Coast Plaza, Knott's Berry Farm
After two days, you may need a vacation from the Disney Resort complex. Plus, Orange County is a getaway destination in and of itself. The area's consistently mild climate means mostly glorious days await you as you explore the county's shoreline, as well as its many cultural, historical and entertainment options.
Get some much-needed salty air into your lungs by taking a drive down the legendary Pacific Coast Highway. These 40 plus miles of scenic coastline, stretching from Seal Beach in the north to Dana Point in the south, are renowned for car culture, multimillion dollar cliffside mansions, picturesque harbors, boutique shopping, fine dining and sweeping ocean views.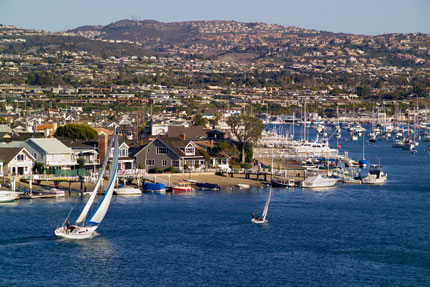 Orange County may be best known for its beaches. Each coastal city has its own distinct personality as well as cultural, recreational, dining and shopping offerings. Huntington Beach is a surfer's paradise and is also one of the best beaches to bring the family for a fun day in the sun and sand. The glitz and glamour of Newport Beach is evident at every turn, from its dazzling Newport Harbor to its quaint Balboa Island and hip Balboa Peninsula. Art aficionados will want to spend some time in Laguna Beach, where dozens of eclectically-themed galleries seamlessly co-mingle with trendy boutiques and casual eateries.
Shopping in Orange County is almost a spiritual experience. The surfwear design industry started here and still plays a big role in inspiring fashion trends all over the world. About 20 miles south of Anaheim is South Coast Plaza in Costa Mesa. This is OC's biggest and best shopping mall, sporting such designer shops as Michael Kors, Valentino and Roberto Cavalli. There's also Nordstrom, Macy's, Bloomindale's and a seemingly endless choice in fine dining options both within and nearby, including Marché Moderne, AnQi, Vaca, Holstein's and Pizzeria Ortica. The Newport Beach outdoor shopping center Fashion Island contains plenty of upscale shops and boutiques, as well as the lure of the Pacific Ocean less than a mile away. Other OC entertainment and shopping centers include Downtown Laguna, Irvine Spectrum Center, Pacific City in Huntington Beach and The District in Tustin.

The ultra-modern MUZEO in Anaheim, just a five-minute drive from the Disneyland Resort, is an interactive museum that caters to adults and kids alike. MUZEO hosts world-class traveling exhibits in its two hip downtown Anaheim buildings. The museum encourages the community to celebrate and explore the wide-ranging exhibits with added events such as film screenings, local art collections, historic battle re-enactments, food and wine tastings and plenty of activities for kids of all ages.

Bowers Museum, which is located a few miles south of Disneyland in Santa Ana, holds this region's premier cultural collections. Originally opened in 1936, Bowers Museum has permanent exhibits focused on California history and plein air painting, as well as world-class exhibits from around the globe. For a first-class meal, eat lunch at the museum's Tangata restaurant, which is run by superstar chef Joachim Splichal's Patina Group.
Orange County is also home to one of California's most popular attractions, Mission San Juan Capistrano. Millions of visitors come here to experience early California history in this historic chapel, quaint outbuildings and flower-filled Spanish-style courtyards. Located a 30-mile drive southeast of Disneyland in the coastal village of San Juan Capistrano, the mission is surrounded by the Camino Capistrano and Los Rios districts; two centuries-old neighborhoods that are filled with charming shopping and dining opportunities.
Those who are into sports should note that Angel Stadium, home to the Los Angeles Angels of Anaheim baseball team, is nearby. There's also the Honda Center, which is the home of the Anaheim Ducks hockey franchise.
If you are a theme park junkie or a roller coaster fanatic, schedule this day to visit Knott's Berry Farm. Located about a 15-minute drive north of Disneyland, Knott's is actually the nation's original theme park. It predates Walt Disney's amusement center by about 15 years. Originally built by Walter Knott to give patrons something to do while they waited for open tables at wife Cordelia's Chicken Dinner Restaurant, Knott's is just as popular with locals as Disneyland.
Would you rather spend the day hitting the links? Just drive about 23 miles from Anaheim to Newport Coast and Pelican Hill Golf Club, which is part of the luxurious The Resort at Pelican Hill. Equipped with an oceanic backdrop, Pelican Hill is OC's premier golf destination with two world-class courses, an upscale clubhouse, lounge and fine dining at Pelican Grill.
Located along OC's coastline are first-class ocean resorts, providing some of the world's most exquisite spas. Some of the best are: Aquaterra Spa at Surf & Sand Resort, The Spa at The Resort at Pelican Hill, Spa Montage at Montage Laguna Beach, Spa Gaucin at St. Regis Resort, Monarch Beach, Pacific Waters Spa at Hyatt Regency Huntington Beach Resort & Spa and Pure Blu Spa at Newport Beach Marriott Hotel & Spa.
When you return to the Disneyland Resort after a third busy day of running around, you may be tempted to just collapse in your comfy hotel bed. Don't follow through on that temptation. One of the best times to visit Disneyland is at night. The crowds are gone, the place is quiet and the beauty and magic of Walt's vision shines through rather brightly. The lack of humanity makes for a perfect time to take a stroll down Main Street and do some choice window shopping (or actual shopping, for that matter). You may even catch yourself humming "When You Wish Upon a Star."
Disneyland holds a special magical place in the hearts of kids and adults alike. With today's Disney Resort complex and the growth of Orange County as a tourist attraction, there's even more to do and see for fun in the Southern California sun.
By Sheryll Alexander and Rich Manning
* Knott's Berry Farm image courtesy of Knott's Berry Farm
Plan a voyage to a tropical paradise aboard one of GAYOT's Best Caribbean Cruises.
Get the 411 on the City of Angels. Find the city's top hotels, restaurants, attractions and more with GAYOT's guide.