Hartford City Trip - Attractions
Connecticut State Capitol Building
210 Capitol Ave.
Hartford, CT 06106
860-240-0222
A marvel of High Victorian Gothic design, Connecticut 's State Capitol Building features a golden dome and a positively breathtaking view of Bushnell Park on a clear, calm summer's day.
Dr. Seuss National Memorial
The Springfield Museums
220 State St.
Springfield, MA 01103
413-263 6800
Theodor Geisel, better known to the world as Dr. Seuss, was a Springfield native. His memorial, located in the courtyard of the Quadrangle Museums, features life-size bronze statues of some of the good Doctor's most famous and favored characters.
Elemis Spa at Mohegan Sun Casino
1 Mohegan Sun Blvd.
Uncasville, CT 06382
860-862-4500
Pamper yourself at this renowned spa located inside the Mohegan Sun Casino, either before or after you hit the tables.
Hartford Belle Cruise Line
860-665-9428
Cruise the Connecticut River , and see and experience much of its storied history firsthand, thanks to leisurely lunch and dinner cruises on the Hartford Belle.
Hartford African American Heritage Trail
175 Scarborough St.
Hartford, CT 06105
860-523-8418
Visit historic homes, churches, businesses and other local landmarks to learn about the culture and history of Hartford's African American community.
Lady Kate Cruises
175 Scarborough St.
860-867-4837
Enjoy a leisurely lunch or dinner on the Lady Katharine, named after Connecticut's own Katharine Hepburn, where everything is better on the water. Enjoy summer cocktail cruises and fall foliage brunches on this river cruise line with ports in East Haddam, Hartford and Middletown.
Naismith Memorial Basketball Hall of Fame
1000 West Columbus Ave.
Springfield, MA 01105
413-781-6500/877-4HOOPLA
The game of basketball was invented in Springfield , MA , by James Nasmith in 1981 so it's only fitting that the sport's Hall of Fame should make its home here. Interactive exhibits allow you to go head-to-head against top NBA athletes, coach a team to victory or assume the job of on-air announcer and call the play-by-play like you've always wanted to.
Old State House
800 Main St.
Hartford, CT 06103
860-522-6766
Built in 1796, Connecticut 's Old State House is one of the nation's oldest state houses, and a vital link to the state's past and history.
Old Sturbridge Village
1 Old Sturbridge Village Rd.
Sturbridge, MA 01566
508-347-3362
The entire village of Old Sturbridge is one big museum! Here, costumed interpreters recreate daily life in 19th-century New England - right down to the silverware (that's made of wood)!
Riverfront Plaza
Columbus Blvd.
Hartford, CT
860-713-3131
With its many paths, trails and boardwalks, Riverfront Plaza aims to connect modern Hartford with the Connecticut River, a vital tributary in the city's formative development.
Foxwoods Resort Casino
39 Norwich Westerly Rd. (Rt. 2)
Mashantucket, CT 06338
800-FOXWOODS
Owned and operated by the Mashantucket Pequot Nation, Foxwoods is the largest casino in the world, with 340,000 square feet of gaming space. So it's no wonder that more than 40,000 people visit the casino each day.
Mohegan Sun Casino
1 Mohegan Sun Blvd.
Uncasville, CT 06382
888-226-7711
Owned and operated by the Mashantucket Pequot Nation, Foxwoods is the largest casino in the world, with 340,000 square feet of gaming space. So it's no wonder that more than 40,000 people visit the casino each day.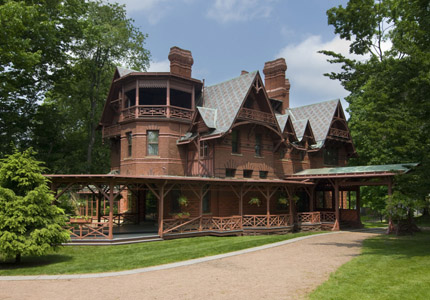 Harriet Beecher Stowe Center
77 Forest St.
Hartford, CT 06105
860-522-9258

Although her next door neighbor's house/museum, Mark Twain's, tends to get the most attention, Harriet Beecher Stowe's house should not be missed either, as it's the ideal destination for both the literary fanatic or the history buff.
Mark Twain House & Museum
351 Farmington Avenue
Hartford, CT 06105
860-247-0998

New England Air Museum
Bradley International Airport
Windsor Locks, CT 06096
860-623-3305
The Northeast's largest aviation museum houses 80 historic aircraft and exhibits on the development of flight. You can even climb behind the controls of a cockpit simulator.
Wadsworth Atheneum
600 Main St.
Hartford, CT 06103
860-278-2670
Built in 1842, the Wadsworth Atheneum is the oldest public art museum in the United States , featuring extensive collections of American and European paintings, sculptures and decorative artifacts.
Bushnell Park
Between Elm and Jewell Streets
Hartford, CT 06106
860-232-6710
America 's first public park serves as a pretty, picturesque oasis in the center of the city. It is a favorite spot for many for a leisurely stroll, or simply a little time to idle on their lunch break or their way home from work.
Elizabeth Park
Prospect Ave.
Hartford, CT 06106
860-722-6514
102 acres of gardens, pathways, woods, greenhouses, lawns, picnic and recreation areas,and even a pond in the West End Neighborhood of Hartford. The Rose Garden boasts more than 15,000 rose bushes arrayed in beds, on arches and along fences. More than 900 varieties of roses bloom each year at this magnificent spot, which is at its peak in early summer.
Farmington River Tubing
Satan's Kingdom State Recreation Area
Rt. 44
New Hartford, CT 06057
860-693-6465
Although it departs from Satan's Kingdom State Recreation Area in New Hartford, the two-and-a-half-mile Farmington River Tubing run isn't anywhere near as intimidating as it sounds.well, for the most part, anyway. There are some rapids towards the end.
Talcott Mountain State Park
Rt. 185
Bloomfield, CT
860-242-1158
The 557-acre park's 165-foot Heublein Tower provides panoramic views of the Hartford skyline and the Farmington River Valley that are particularly spectacular in the fall.
MORE HARTFORD INFORMATION
* Hartford images courtesy of the Greater Hartford Convention & Visitors Bureau; Mohegan Sun Casino image courtesy official website.

Plan a voyage to a tropical paradise aboard one of GAYOT's Best Caribbean Cruises.
Get the 411 on the City of Angels. Find the city's top hotels, restaurants, attractions and more with GAYOT's guide.