Fast Track to Lyon
The culinary capital of France
DAY 2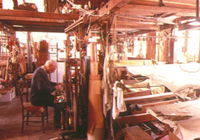 Silk Workshop*
If you're able to stay in Lyon a bit longer, spend your second day moving on from Fourvière's "hill that prays," to discover La Croix Rousse, the "hill that works." It is famous for the "canuts," the first workers in the textile industry who kept their looms in their homes. There was not much room left for a bed or table, but the canuts did not have much time to rest or indulge anyhow. Their severe conditions were the origin of an historic riot in the 19th century, "la Revolte des Canuts." Visit the Ateliers de Soierie Vivante, which organizes guided tours of silk workshops that continue to manufacture fabric for the fashion industry today.
Waking up at 4 a.m., the canuts would have their breakfast in a bouchon at 8 a.m. It was certainly not the Continental breakfast that we know today. It used to include dishes like lentil salads, potatoes, beef cheeks, cervelas (a sort of salami), gras-double (cow stomach), quenelles and pig's feet… You can enjoy these specialties at Le Mercière on a restaurant row street that is quite lively at night. Don't forget to sample the famous frogs of the Dombes (marshlands near Lyon). Don't be afraid, as the taste is something between chicken and fish. Drink a "pot" (46cl) of Beaujolais. Locals describe it as "gouleyant," meaning you can gulp this refreshing, chilled drink to quench your thirst.

Enjoy the gardens and small streets of Old Lyon in summer and also the riverside of the Saône at twilight. However, the month of December is also a good time for a visit. The Festival of Lights, held on December 8 each year, is a pure emotional delight. The city shimmers in the glorious light. The Lyonnais place thousands of small candles on their windows which twinkle in unison to create a memorable moment. The Ancient Music Festival of Old Lyon and the Christmas Market in the Place Carnot, overflowing with a huge variety of all sorts of products, are held during the same time period.
If you're planning to enjoy the two hills of Lyon, stay at the hotel Cour des Loges, a wonderful spot in Old Lyon with superb rooms. Reserve your dinner at the hotel's Café Epicerie, whose chef worked under Nicolas Le Bec before he moved his namesake restaurant to the 2nd arrondissement.
Photos courtesy of Tristan Deschamps and J. Du Sordet / Office du Tourisme de Lyon
| | |
| --- | --- |
| P120102 | (Updated: 04/21/08 MG) |
Plan a voyage to a tropical paradise aboard one of GAYOT's Best Caribbean Cruises.
Get the 411 on the City of Angels. Find the city's top hotels, restaurants, attractions and more with GAYOT's guide.