Orlando, Florida 72-Hour Vacation
Unexpected Orlando
Beyond Mickey Mouse
Kennedy Space Center Visitor Complex
DAY 3
Just about an hour's drive from Orlando, Florida's east coast is the only place in the United States where you can see humans launched into space. Long before Mickey Mouse invaded Central Florida, the central-east coast was a land of wide beaches, sleek spacecraft and a bohemian surf culture. Stop for a croissant or quiche Lorraine at family-owned Caffè Chocolat in historic Titusville, across the river from Kennedy Space Center .
Dixie Crossroads
The easiest route from Orlando is to take State Route 528 (the Beachline Expressway) off I-4 East or I-4 West, the main north-south axis for this area, and head east. Watch for signs for the Kennedy Space Center Visitor Complex (KSC), the best place to start your day. With two launch pads, one of the world's longest runways and the biggest building in the U.S.—the Vehicle Assembly Building—KSC is home to the Space Shuttle fleet, and launches more manned and unmanned space vehicles than any other site in the world.
You'll get close look at NASA's past, present and future in space exploration at KSC's Visitor Complex, an attraction that started in the early 1960s when families of space program workers were allowed on Sundays to drive through the restricted government grounds at Cape Canaveral. Visitors come from all over the world and board buses for access to restricted areas of Kennedy Space Center. The Visitor Complex also has two five-story IMAX theaters with footage shot by the astronauts and various hands-on exhibits.
As you leave KSC, ask for directions to Dixie Crossroads, nearby Titusville's most popular restaurant. Owner Laurilee Thompson is a sixth-generation Floridian, and her family of boat builders and fisherman sailed down the St. Johns River to Florida in the late 1800s. The Thompsons opened Dixie Crossroads in the 1980s in an orange grove with 35 seats. Today the place seats 450 and offers all manner of seafood, but rock shrimp is the house specialty—they serve about 1,000 pounds a day, fried broiled or steamed, more than any other restaurant in the world.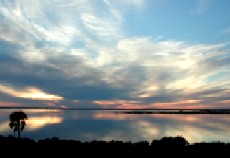 Canaveral National Seashore
Spend the afternoon at the nearby Canaveral National Seashore's Playalinda Beach, the longest section of undeveloped beach on Florida's east coast. Like a delicate strand of pearls, the national seashore slips down the coastline and you see the coast as Ponce de Leon must have seen it in 1513—no buildings or seawalls, just sand and dunes.
Casual beach eats are a perfect way to end the day—take a 15-minute drive to nearby New Smyrna Beach for fresh seafood at Norwood's, a favorite since 1946. Fresh wild-caught fish such as wahoo, grouper and red snapper, blue crab cakes and fried oysters are top sellers, and they stash more then 30,000 bottles in their wine cellar.
For one-of-a-kind after-dark entertainment in the summertime, sign up for the "Turtle Watch" program at Canaveral National Seashore. The park is a nesting ground for giant loggerhead sea turtles, threatened with extinction. They emerge from the surf at night to lay their eggs in nests dug into the dry sand, then return to the sea. Two months later, about a hundred baby turtles or hatchlings emerge from each of these nests and crawl to the ocean. Park rangers lead flashlight tours along the beach to watch the amazing action.
For more information, contact the Orlando-Orange County Convention & Visitors Bureau, www.orlandoinfo.com.

* Images courtesy of Orlando/Orange County Convention & Visitors Bureau, Inc.®;
Dixie Crossroads image from www.dixiecrossroads.com


| | |
| --- | --- |
| PSG011708 | (Updated: 09/13/09 SG) |
Plan a voyage to a tropical paradise aboard one of GAYOT's Best Caribbean Cruises.
Get the 411 on the City of Angels. Find the city's top hotels, restaurants, attractions and more with GAYOT's guide.