By Alain Gayot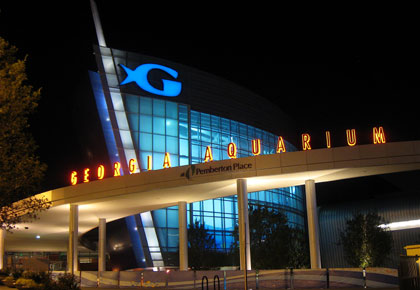 Atlanta's Georgia Aquarium, designed to look like a ship
Located in Atlanta, the Georgia Aquarium is home to the world's biggest aquarium facility and collection of aquatic animals. Built in just 27 months, it houses the largest grouping of batfish, giant grouper and blacktip reef sharks in an aquarium. The aquarium system's 234 pumps move 275,000 gallons of water per minute, helping supply more than 8,000,000 gallons to 60 exhibits.
Inside the 580,000-square-foot facility, five galleries depict five different marine-life habitats. They include the Cold Water Quest, which houses animals and life residing in cold ocean waters; the Tropical Diver, which includes the largest living coral reef exhibit in any U.S. aquarium; Georgia Explorer, a hands-on area which includes touchpools and a simulated shrimp boat, and the Ocean Voyager exhibit is the only aquarium outside of Asia which can house up to six whale sharks, which are considered to be the largest fish in the world. The facility is also home to The Correll Center for Aquatic Animal Health, which combines a veterinarian-teaching hospital with an aquarium.
| | |
| --- | --- |
| | |
| Two whale sharks swim along | An Ocean Voyager exhibit window |
The Ocean Voyager exhibit currently houses four whale sharks, as well as 6,000 other fish, including hammerhead sharks and the aquarium's newest addition, a manta ray from South Africa. Visitors can swim or dive with the whale sharks in the exhibit through the "Journey with Gentle Giants" experience, which costs $190 to swim and $290 to dive. The program price includes admission and swimming/diving equipment as well as a t-shirt, certificate of completion, photo and a DVD of the experience. Divers must be SCUBA-certified and present proof of certification. A portion of the proceeds go to the aquarium's 4R program, a donation program which focuses on rehabilitation, responsibility, rescue and research.
See the Ocean Voyager webcam at Georgia Aquarium
Going to Georgia? Check out our guide

72 hours in Atlanta

Atlanta Business Travel Guide

Restaurants in Atlanta

GAYOT's Top 5 Luxury Trains include exciting excursions on as many continents as possible, from the Austalian Outback to Europe.
To help you figure out where to lay your towel, GAYOT has chosen ten of the best Hawaiian beaches from Maui to the Big Island.