No-Jet-Lag - Review
A Homeopathic Remedy to the Rescue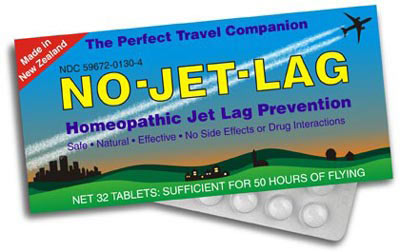 Medicine has come a long way. Folks are growing stem cells behind their ears and surgeries can be done with laparoscopes. But we still don't have a cure for the mild-but-maddening common cold, hangovers or jet lag. To alleviate the bane of frequent fliers, Miers Laboratories in Wellington, New Zealand, has created No-Jet-Lag. This homeopathic remedy boasts having no risk of harmful side effects, even for kids. It's designed to combat the malaise's most common symptoms such as fatigue, broken sleep after travel, disorientation, lack of concentration and motivation, dehydration and leg discomfort.
No-Jet-Lag includes Arnica Montana 30C (leopard's bane), Bellis Perennis 30C (daisy), Chamomilla 30C (wild chamomile), Ipecacuanha 30C (ipecac) and Lycopodium 30C (clubmoss). While homeopathy in the US is still not as pervasive as it is in Europe, each of these remedies is backed up by hundreds of years of usage and research. Arnica Montana, for instance, was employed by Samuel Hahnemann, the father of homeopathy, more than 200 years ago to combat travel sickness and restlessness. Bellis Perennis and Chamomilla both address sleep interruptions and agitation, while Ipecacuanha soothes upset stomachs, fights nausea and alleviates dehydration.
The company also cites a double-blind, placebo-controlled scientific test, and a survey of flight attendants in which 75 per cent reported the remedy was "good" or "very good" in alleviating jet leg. Try a tablet of No-Jet-Lag at take-off, take another every two hours during your flight, and pop one more after each landing (including layover stops).

Maybe they'll come up with a cure for a hangover as well, for when you find yourself having hit the booze of the beverage card too hard!
Price: $12-$13 for a 32-tablet strip packet at www.magellans.com and www.rei.com

For more information, visit www.nojetlag.com
Interested in holistic health? Check out the Top 10 Immune Boosters

Visit our health section
---
| | |
| --- | --- |
| PSS081511 | (Updated: 08/22/11 SG) |
Calling all oenophiles! GAYOT has picked the Top 10 Wine Routes in the World that offer beautiful views, miles of vineyards and, of course, good wine.
Park City is popular as a winter getaway, but it also makes for a fun summer destination. Here's a list of the Top 10 Things to Do in Park City in Summer that will keep you entertained.