THE BAHAMAS TRAVEL GUIDE
When Christopher Columbus happened upon the Island of San Salvador — one of 700 islands that dots the 100,000-square-mile archipelago that comprises The Bahamas — he called the area "Baja Mar," or "The Islands of the Shallow Sea." Officially the Commonwealth of The Bahamas, this tropical paradise he "discovered" is a playground of incredible diversity. It's a great vacation spot for water sports, weddings, sailing, swimming, fishing and frolicking at the beach.
NEW PROVIDENCE/PARADISE ISLAND
DINING IN THE BAHAMAS
Nassau Restaurant Reviews
Whether you're hungry for down-home cooking or authentic Bahamian dishes, you'll find a restaurant that fulfills all of your cravings in Nassau.

Find out where to eat
---
TOP ROMANTIC DESTINATIONS
Nassau
Nassau Paradise Island in The Bahamas not only has the requisite pink sand and turquoise waters, but also offers the greatest variety of places to eat, nightlife and resorts.

Discover more about this amorous tropical paradise
---
---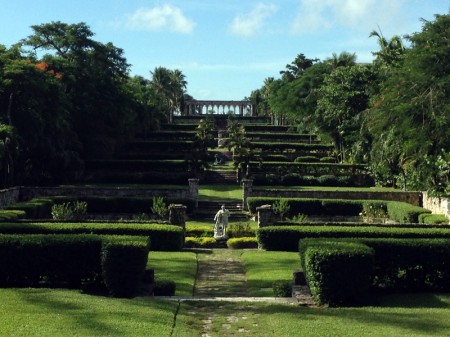 A PIECE OF HISTORY
The Cloister on Paradise Island
How did this actual centuries-old French monastery cloister wind up in the Bahamas, as well as appear in James Bond and The Beatles movies?

Take a step back in time
---
TOP CARIBBEAN HOTELS
One & Only Ocean Club
Vacationers will find plenty to do at the One & Only Ocean Club — from engaging in water sports to playing golf to relaxing at the holistic spa.

Plan your getaway to this exclusive hotel
THE AWAKENING
Grand Bahama Island
The ingredients making up Grand Bahama Island will please any taste; there's something for golfers, gamblers, deep-sea fishers, bonefishers or newlyweds.

Read more in GAYOT's travel feature
---
FIND PEACE AND RELAXATION
One&Only Spa
Find out about GAYOT's favorite wellness escape in The Bahamas. Enjoy body therapies, facials, beauty treatments and more.

Treat yourself to a day at the spa
---
IN THE LAP OF LUXURY
Grand Lucayan
Soak up the luxuries offered at this sprawling resort that boasts acres of sand beaches, championship golf, a full spa, a kids' club and a casino.

Learn more about this chic hotel
---
BONEFISHING ADVENTURE
The Old Men and the Sea
Read about an exceptional fishing expedition — the kind usually only available to a happy few aficionados such as former presidents George H.W. Bush and Bill Clinton.

Find out more in GAYOT's travel review
AFFORDABLE RESORT LIVING
Abaco Beach Resort & Boat Harbour
Located on 52 acres on Abaco's Marsh Harbour, this destination offers quiet private beaches, sports fishing and casual accommodations.

See what else this resort has to offer
DON'T BE CRABBY
Andros Crab Fest
Showcasing 115 different ways to capture, prepare and eat crab over a single weekend, the annual Andros Crab Fest attracts seafood lovers from far and wide.

Venture into "The Land of the Crabs"
CELEBRATE
Junkanoo Parades
Boxing Day and New Year's Day were special for slaves, as they had those days free. Today, Bahamanians celebrate the occasion with large parades throughout The Bahamas.

Let loose and join the festivities
---
Learn more at The Islands Of The Bahamas official website
GAYOT's list of the best luxury trains has exciting excursions on as many continents as possible, from dramatic treks across the Austalian Outback to elegant tours through the great cities of Europe.
Situated in scenic locales from Napa Valley to Champagne, France, these iconic wine routes boast world-class vineyards, charming towns and unforgettable views.