ORANGE COUNTY TRAVEL GUIDE
Characterized by its Mediterranean climate and flourishing production of orange crop to which the region is aptly identified, Orange County is no longer the overshadowed land of obscurity between Los Angeles and San Diego. The area has established itself as a mecca for tourism, boasting a multitude of attractions (such as the home of Disneyland), several sports teams, and a notable convention center, all of which garner its appeal as a tourist destination. This suburban metropolis also is the home to several Fortune 500 companies and plenty of shopping and picturesque beach landscapes, protracting its motley allure in both leisure and business. Orange County has become a poster child for the state, featuring a melting pot of society and culture in the heart of Southern California.
RESTAURANTS

TRAVEL
Disneyland, California 72-Hour Vacation
The Disneyland you visited as a child has changed. It's bigger, it's better and there's way more to see, do, eat and drink. But if you're worried that Disneyland has changed too much, don't fret. Walt Disney's original "Happiest Place on Earth" remains intact with all of the magic, rides, characters, creativity and family fun.

Read more

---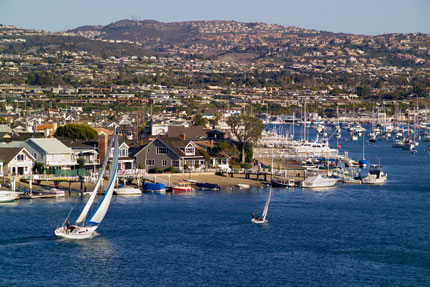 Newport Beach 72-Hour Vacation
On rare occasions when the sun isn't out in Orange County, California, Newport Beach still shines bright with fine dining, world-class art exhibits, an independent film festival and oodles of outdoor activities.

Read more
---
Laguna Beach 72-Hour Vacation
Located between Los Angeles and San Diego along the famed Pacific Coast Highway, this Orange County beach town is a genuine slice of tropical paradise sometimes known as California's Riviera, with its charming inns, romantic coves and sophisticated style.

Read more
---
Anaheim Business Travel Guide
Orange County knows how to blend business and luxury, as its high-end resorts, beautiful beaches and a vibrant nightlife surround the headquarters of many of the world's corporations. The Anaheim Convention Center and Disneyland alone draw millions to this business and leisure hotspot annually.

Read more
Related Content:

California Travel Guide

UJC12216
Its name means "Jewel by the Sea." Discover why this San Diego city is a hot destination with GAYOT's picks of the Top 10 Things to Do in La Jolla.
If you're traveling to the islands, these cruise lines will ensure the journey is entertaining. See which ones are the best to set sail on in GAYOT's Top 10 Caribbean Cruises.