Sake Varieties
Cloudy vs. Clear Sake
by Satomi Furugaki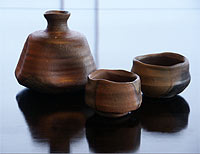 An elegant, traditional set
Everyone has a favorite wine varietal. But how about a favorite sake? If your exposure to this complex "rice wine" (it's actually not a wine at all) has been limited to a hot bottle shared with friends at a sushi restaurant, you may not realize that sake varieties are nearly as different as wine varietals. Variety goes way beyond the differences in serving temperature.

The production process of sake is so complicated that the first processing phase of the key stages can produce completely different sake even with the same ingredients: rice, water and koji (steamed rice with special mold spores cultivated in it).
Here's a quick guide to sipping:

One of the major factors that affects the flavor of sake is how much the grain of the rice is polished. More milling results in more fragrant and delicate sake. Less milling creates a fuller-bodied sake with more prominent hints of rice.
"Daiginjo" (rice milled down to 50 per cent or less of its original size) and "Ginjo" (60 per cent or less) are oftentimes dainty and aromatic in a fruity or floral way, or sometimes minerally in the manner of well water, enjoyed with raw foods or lightly seasoned dishes. "Junmai" or "Honjozo" (70 per cent or less), on the other hand, bear a distinctively rich and round rice flavor and pair well with heartier and well-seasoned dishes.
Regardless of milling degree, most sakes share the common characteristic of being transparent in color as a result of filtrations. Also, they are pasteurized for better storage, and have an alcohol content of 15 per cent to 17 per cent (30 to 34 proof). There is, however, a unique variety of specialty offerings as well.

Nigori-zake ("cloudy" sake) is made by filtering the oatmeally sake mash only roughly, leaving unfermented white sediment in the liquid. It often tastes sweet and creamy with a different degree of acidity and dryness. Others are carbonated because of the active yeast in the bottle. Nigori is perfect with spicy Asian fare or as a dessert drink by itself.

Another unique sake is Nama-zake ("raw" or "draft" sake), the unpasteurized kind. Nama-zake is fresh, vivid, clean and crisp, and perfect for celebrating the spring season. It makes a great sidekick to fresh dishes like sushi and sashimi. Delicate Nama-zake needs to be stored in the refrigerator and must be enjoyed immediately after opening.


| | |
| --- | --- |
| | |
| Rice: the main ingredient | Sake production process |
Sake has long punctuated the concept of celebrating the seasons cherished by the Japanese, with special events like the viewing of the cherry blossoms or the moon, snow gazing and other traditional festivities. Create your own rituals, pairing your favorite sake with light spring dishes or heartier cold-weather fare.
Satomi Furugaki
is a trained sake sommelier who teaches at the California Sushi Academy in Los Angeles.
www.sushi-academy.com
* All images courtesy of The Jizake, Inc.
---