Hottest Movies of All Time
Movies with Wild & Sexy Scenes
Don't be shy. We know you want to watch. For sensual dramas and steamy, erotic thrillers, check out GAYOT's list of the Best Hot Films of all time. Whether you watch these flirty flicks alone, with friends or a special someone, these steamy productions certainly know how to turn up the heat. If you like what you see, check out more scintillating action with our list of the Top 10 Sexy Movies for even more fun (and naughty) films.
1. In the Mood for Love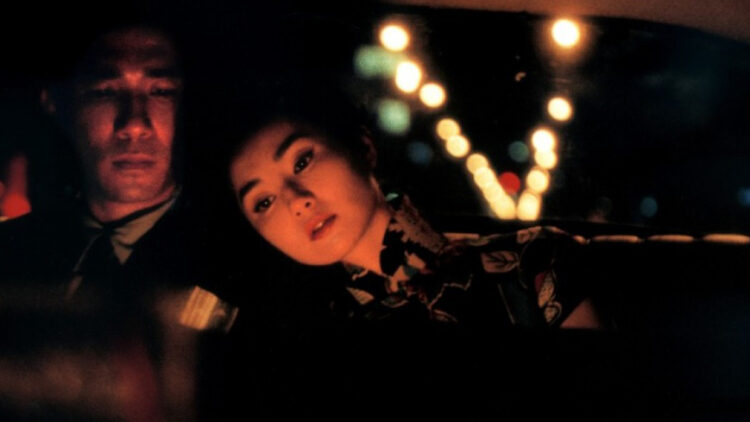 Kar-Wai Wong directs In the Mood for Love, starring the impossibly sexy, Maggie Cheung.
Maggie Cheung and Tony Leung are neighbors in 1960s Hong Kong who are inevitably drawn together as they become convinced that their spouses are having an affair with one another. Helmed by a different director, "In the Mood for Love" could have been an existential period piece about loneliness and forbidden love, but in Wong Kar Wai's capable hands the sexual tension is drawn out with style and subtlety. The visual and aural impressions left by Cheung's short, fitted dresses and Nat King Cole's music cannot fail to lull the viewer into a languorous reverie.
Directed by: Kar-Wai Wong
Starring: Tony Chiu Wai Leung, Maggie Cheung, Ping Lam Siu
Released by: USA Films
Run Time: 98 min.
Genre: Drama, Romance
2. Mondo Topless (1966)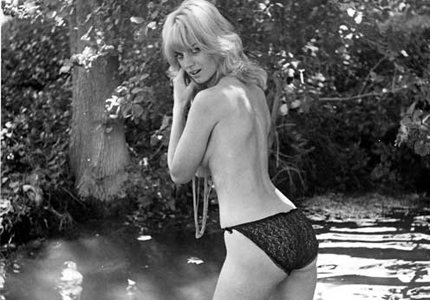 Russ Meyer takes his boob obsession to a whole new level in Mondo Topless.
And the honor of ultimate breast man goes to… Russ Meyer, who gets to share the title with Hugh Hefner. But filmmaker Meyer ("Faster, Pussycat! Kill! Kill!"), the master of sexploitation, takes his boob obsession to a whole new level in this fake documentary, where he captures the "buxotics" in all their bouncy, pre-plastic-surgery and gigantic glory. The plot consists of, well, actually, there isn't really a plot. It's a visual feast and an ode to a glorious female body part. Make that two glorious female body parts.
Directed by: Russ Meyer
Starring: Babette Bardot, Darlene Grey, Pat Barrington
Released by: Image Entertainment
Run Time: 60 min.
Genre: Comedy
3. The Man Who Loved Women(1983)

Blake Edwards directs the 1983 sexy movie, The Man Who Loved Women.
When we saw this movie before we were old enough to drive a car, it haunted us for months. This man, philanderer Bertrand, is obsessed with women. Scenes of legs driving him mad with wanting, a sexy visitor, nude under a trench coat….Wiser now, we see the comedy and misogyny in Truffaut's masterpiece, but we can't help it; those legs are still darn hot…
Directed by: Blake Edwards
Starring: Burt Reynolds, Julie Andrews, Kim Basinger
Released by: Columbia Pictures
Run Time: 110 min.
Genre: Comedy, Drama, Romance
4. 9 Songs (2004)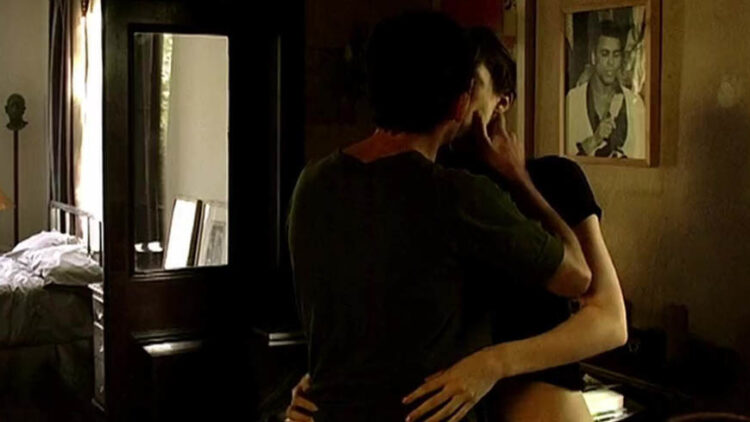 Michael Winterbottom's 9 Songs made indie music lovers salivate for several reasons.
One of the most explicit movies ever, it proudly contrasts the performances of Primal Scream, The Dandy Warhols, Franz Ferdinand and Black Rebel Motorcycle Club with sex scenes in graphic, close-up detail. But overall, the love story is quite lovely, just a snapshot of how Europeans live their lives, fall in love, have sex, go to shows…now, what's so scary about that? Just kidding!
Directed by: Michael Winterbottom
Starring: Kieran O'Brien, Margo Stilley, Black Rebel Motorcycle Club
Released by: Sony Pictures Home Entertainment
Run Time: 71 min.
Genre: Drama, Romance
5. Out of Sight (1998)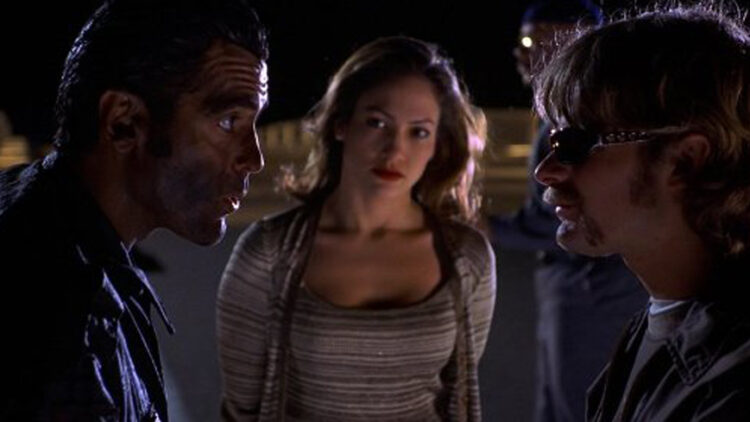 Steven Soderbergh directs the steamy hot action movie starring George Clooney and Jennifer Lopez.
With prison breaks and criminal capers, the action in this take of Elmore Leonard's novel is hot, but it's the chemistry between George Clooney and Jennifer Lopez that really sizzles. Being on opposite sides of the law — Clooney a bank robber and Lopez a U.S. Marshall who's after him — only adds heat to their encounters: stolen moments at a hotel bar, a tension-filled clinch in a car trunk and one of the steamiest bath scenes you're likely to encounter.
Directed by: Steven Soderbergh
Starring: George Clooney, Jennifer Lopez, Ving Rhames
Released by: Universal Pictures
Genre: Crime, Drama, Romance
6. Vampyros Lesbos (1971)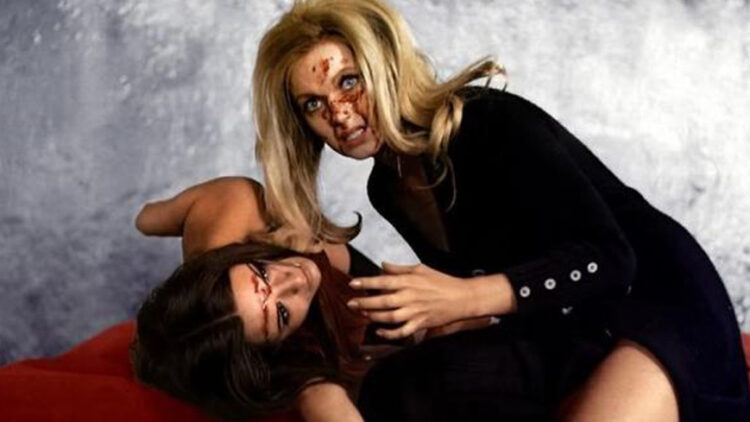 Jesús Franco's 70s vampire erotica, Vampyros Lesbos, starring Soledad Miranda and Dennis Price.
Long before Bella and Edward started the wide-spread vampire craze still gripping Twihards, a 1971 German sexploitation flick dabbled in the allure of vampires, lust and B-movie schlock with the irresistible tagline "psycho-sexadelic horror freakout!" And just like "Twilight," "Vampyros Lesbos" is pure eye candy, but artsier and cooler, featuring a dreamy soft porn soundtrack that has become a hipster must-have and much, much more nudity! To be clear, we don't love this Jesús Franco film for its storytelling (sexy lawyer falls for sexy vampiress and ends up in insane asylum) but for its hot '70s girls, homoerotic scenes and retro hipster vibe.
Directed by: Jesús Franco
Starring: Soledad Miranda, Dennis Price, Ewa Strömberg
Released by: Synapse Films
Run Time: 89 min.
Genre: Horror
7. Risky Business (1983)

Paul Brickman's 80s classic, Risky Business, starring Tom Cruise.
The Tom Cruise dancing in his underwear scene is so iconic, it's still used today to sell state-of-the-art video games. Add to it his dalliance with Rebecca De Mornay on a train, his fantasy of the girl in the shower asking him to wash his back, and every male teens' fantasies of learning about lovemaking from hot hookers (not to mention racing fast cars) makes this film one of the best teen sex comedies of all time.
Directed by: Paul Brickman
Starring: Tom Cruise, Rebecca De Mornay, Joe Pantoliano
Released by: Warner Bros.
Run Time: 99 min.
Genre: Comedy, Crime, Drama
8. The Piano (1993)

Experience the Jane Campion movie that is both intensely erotic and poetic.
This Jane Campion movie is both intensely erotic and poetic thanks to Holly Hunter's amazing performance as a mute piano teacher sent into the New Zealand wilderness and an arranged marriage. Harvey Keitel isn't exactly a hunky beau, but with his tribal tattoos and hidden tenderness, you can't resist him. These charged images won't leave you for days to come.
Directed by: Jane Campion
Starring: Holly Hunter, Harvey Keitel, Sam Neill
Released by: Miramax
Run Time: 121 min.
Genre: Drama, Romance
9. Magic Mike (2012)

Director Steven Soderbergh gives the stripping clichés some substance with Magic Mike.
A seasoned male stripper teaches a new performer how to party, woo the ladies and make a quick dime. Meanwhile, the (largely female) audience gets to fawn over the shirtless torsos of Channing Tatum, Alex Pettyfer and Matthew McConaughey. Director Steven Soderbergh gives the stripping clichés some substance and ultimately packages a good time at the movies.
Directed by: Steven Soderbergh
Starring: Channing Tatum, Alex Pettyfer, Olivia Munn
Released by: Warner Bros.
Run Time: 110 min.
Genre: Comedy, Drama, Romance
10. Interview with the Vampire(1994)

Neil Jordan directs the fantastically sexy film, Interview with the Vampire.
There's always been something very sexual about the idea of vampirism, something that Anne Rice banked on with her empire of bloodsucking beautiful people. Examining themes such as existential despair, immortality and sexuality, the film version of this Rice bestseller oozes gothic sensuality. It's true that it's trite at times, but oh-so deliciously dark.
Directed by: Neil Jordan
Starring: Brad Pitt, Tom Cruise, Antonio Banderas
Released by: Warner Bros.
Run Time: 123 min.
Genre: Drama, Fantasy, Horror
11. Caligula (1979)

There's nothing quite like Tinto Brass's 1979 film, Caligula.
Although at times tastelessly graphic, it is high cinematic expression, showcasing the perversity and bombast of Rome under the rule of mad emperor Gaius Germanicus Caligula, played unforgettably by Malcolm McDowell. Be sure to get a hold of the full-length 160-minute version in all of its pornographic glory. And if you were as hooked on the HBO TV drama "Rome" as we were, "Caligula" will be especially appropriate as "supplemental research." Bonus: Dame Helen Mirren naked.
Directed by: Tinto Brass
Starring: Malcolm McDowell, Peter O'Toole, Helen Mirren
Released by: Image Entertainment
Run Time: 156 min.
Genre: Drama
12. Bull Durham

The perfect combo of lust, humor, sports and sex, Bull Durham will get everyone swinging.
When baseball devotee Annie (Susan Sarandon) "trains" rookie pitcher Nuke (Tim Robbins), tension builds between her and Crash (Kevin Costner), a more experienced catcher who gives more conventional lessons. As titillating as it is to watch Annie dominate Nuke, it's sexier to see her meet her match. We'd let Crash undo our garters any day.
Directed by: Ron Shelton
Starring: Kevin Costner, Susan Sarandon, Tim Robbins
Released by: Orion Pictures
Run Time: 108 min.
Genre: Comedy, Romance
13. Blow-Up (1966)
Starring the sultry Vanessa Redgrave, Blow-Up is considered Michelangelo Antonioni's masterpiece.
It's hard to pick a favorite Michelangelo Antonioni movie. In his cult oeuvre, "Zabriskie Point," you get explosions and beautiful people fornicating in the desert. But Blow-Up is probably the director's masterpiece. Starring the sultry Vanessa Redgrave, it has a distinctly '60s sexiness. It's visual porn for the sapio-sexual who gets off on the intellect or art. Inspired by the life of a real Swinging Sixties photographer, its plot centers around a photographer who thinks he accidentally captured a murder on film. Blow-Up's explicit scenes were illegal at the film's release, but its box office success led to a revision of Hollywood's rating system!
Directed by: Michelangelo Antonioni
Starring: Vanessa Redgrave, David Hemmings, Sarah Miles
Released by: Metro-Goldwyn-Mayer
Run Time: 111 min.
14. Chocolat (2000)
A sensuous picture with Juliette Binoche and Johnny Depp centered around the aphrodisiac, chocolate.

In our diet-obsessed culture, food has become highly eroticized. In this case, chocolate is the object of desire. There are "Venus nipples" and matrons confessing how chocolate tortures them with pleasure. This sensuously photographed picture with creamy Juliette Binoche and dashing Johnny Depp is sweetly sexy, but we figured not every flick on our list had to involve murder, masochism or madness.
Directed by: Lasse Hallström
Starring: Juliette Binoche, Judi Dench, Alfred Molina, Johnny Depp
Released by: Miramax
Run Time: 121 min
15. The Cook, the Thief, His Wife & Her Lover (1989)
The Cook, the Thief, His Wife & Her Lover is the perfect movie for foodies who like to dabble in avant garde film.
Here's a sexy movie for you foodies! If you love high art and the avant garde and don't mind a bit of violence and scatology, this is a perfect film for you. This stylized study in formalism — albeit a lavish one — revolves around the gourmet restaurant La Hollandais. We cannot give away much of the completely over-the-top plot without spoiling the movie for you. Suffice to say, things get cooking in a way you wouldn't expect it! 
Directed by: Peter Greenaway
Starring: Richard Bohringer, Michael Gambon, Helen Mirren
Released by: Miramax
Run Time: 124 min.