al di la
248 Fifth Ave. (Carroll St.)
Send to Phone
718-783-4565
| Make Restaurant Reservations
Casually chic Venetian trattoria offering northern Italian meals.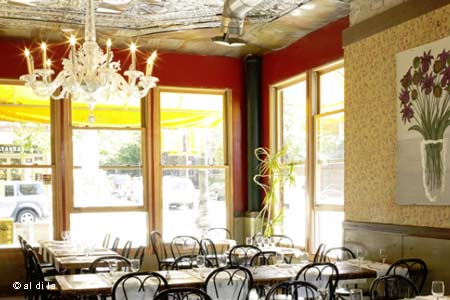 al di la Restaurant Review
: The great beyond? Al di la (an Italian idiom and restaurant) is far beyond a local secret, as crowds mill about patiently on the corner for a seat at this husband-and-wife-operated establishment. Some manage to score space at the wine bar next door. Homemade pastas from chef Anna Klinger include tortelli di fave (ravioli filled with fava beans, mascarpone, pecorino and fresh mint). Risotto varies nightly, but it's always soul-satisfying and generously portioned. Entrées, like hanger steak "tagliata" with arugula and pork loin scaloppine with sage leaves and prosciutto served with sautéed potatoes, are just like your Italian mamma used to make. For dessert, there's pear cake with bitter chocolate chunks, and ricotta fritters served with warm chocolate sauce and vanilla whipped cream. The wine list offers some affordable choices, mostly from Italian winemakers. Best of all, service is caring and prices are gentle.
---
Enter the culinary world of the 2019 Best Restaurants in America with our Restaurants Awards.