David Laxer carries on the legacy created by his father, Bernard, at this Tampa steakhouse.

Openings:
Dinner Tues.-Sun.
Features
Valet parking
Dress code: Business casual
Entertainment: Entertainment
Reservations suggested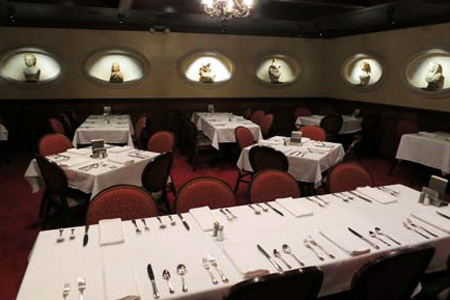 Bern's Steak House Restaurant Review:


About the restaurant and wine cellar: On a trip from New York to California, Bernard Laxer and his wife Gert ended up staying in Tampa, where they opened a small restaurant. In 1956, they moved to Howard Avenue, and this is the beginning of the Bern's Steak House story. Obsessed with quality, Bernard ("Bern") started his own farm to grow produce for the restaurant, and assembled the world's largest restaurant wine cellar with more 500,000 bottles encompassing around 6,800 different labels. Yes, you read that correctly: the world's largest restaurant wine cellar is in Tampa, Florida!

About the décor: The restaurant can seat 740 diners in many distinct rooms, including the Harry Waugh Dessert Room upstairs (named after an English friend of Bern's who suggested having a separate space for the sweets). For the high-rollers, celebrities and U.S. presidents, there is an ultra-private room with a back entrance. Bern is responsible for many of the decorative items throughout the spaces, which he collected over the years, including numerous photos he took himself --- check out the one in the elevator.

About the food: The building's surroundings and exterior and the all-red lobby are quite surprising, but the extravaganza of the place makes up for it: a menu with a whole page of caviars, soups and salads, including a tableside-prepared Caesar, foie gras, escargots, vegetables, fresh fish flown in daily, shellfish, live lobster, lamb, duck, top-quality chicken, sauces and, of course, the steaks, which are aged in-house for five to eight weeks. More about the beef: After four pages of explanation, you can choose from a list of dozens of items, priced according to the cut and thickness, with even a ruler to remind you of the meat's measurement so you don't under-order or over-order. If you need assistance, your waiter, whose position was attained after a year of training, will be very happy to help you select the steak of your dreams. Save room for a sweet from the 35-plus-item dessert menu that you will eat in a private booth equipped with a phone for requesting songs from the resident pianist. And do allow time for the 15-minute tour of the kitchen and wine cellar.

About the wine: As you can imagine, you will pretty much find anything you desire, including pre-war Sauternes and seventeenth-century Madeira, 200 wines by the glass and over 80 in the Dessert Room.
---