Bougainvillier
Route de La Colle
Send to Phone
+33 (0)4 93 32 84 54
| Make Restaurant Reservations
The largest dining room in this huge Provençal establishment.
Open

Open daily until 10:00pm

Features
Valet parking
Dress code: Dressy
* Click here for rating key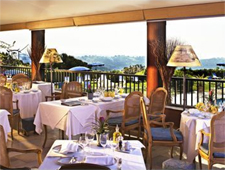 Bougainvillier Restaurant Review
: The largest dining room in this huge, rambling building sports a warm and colorful Provençal décor. All the better to put diners in the mood for Francis Scordel's subtle, sunny cooking with a personality all its own. Delectable marinated mussels, tomato sauce bound with cream, olive oil and basil; toothsome panache' of five fish; young rabbit round and semolina gnocchi; wonder of a cheese platter; and cherry clafouti. The cellar is amply lined and the service impeccable.