Brenda's French Soul Food
652 Polk St. (Eddy St.)
Send to Phone
This New Orleans-style eatery has turned a seedy street corner into a foodie destination for beignets, grits and epic french toast.

---
---
Open

Breakfast & Lunch daily, Dinner Wed.-Sat., Brunch Sat.-Sun.

Features
* Click here for rating key
---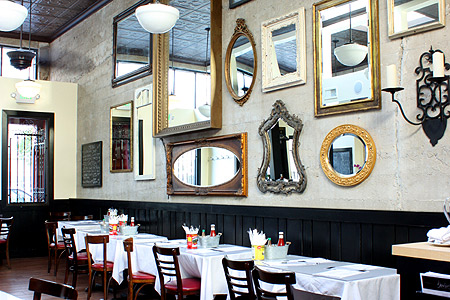 ---

Operations may be disrupted due to COVID-19. Be sure to contact the restaurant to find out its current status and offerings.


---


Brenda's French Soul Food Restaurant Review
: This sweet spot is worth a detour to an otherwise seedy corner near the Civic Center. The dining room features a spare, clean décor of mirrors, a subdued color scheme and simple wooden tables with seating for about 75. Chef Brenda Buenviaje (Sumi, Café Claude, Delessio) commands the semi-exhibition kitchen where she turns out a limited menu of French-Creole fare. New Orleans staples include fat, creamy biscuits that unfortunately sell out quickly, golden-brown beignets (stuffed versions include one with molten Ghirardelli chocolate), and savory options such as fried shrimp po' boys and oyster-bacon hangtown fry. Specials change daily. Reservations are not accepted. On Sundays, Brenda's is open for an early dinner until 8 p.m. The team also owns nearby Libby Jane and Brenda's Meat & Three.
---
---
---