---
---
Open

Breakfast & Lunch Wed.-Fri., Dinner Wed.-Sun., Brunch Sat.-Sun.

Features
Valet parking & parking garage
Dress code: Casual
* Click here for rating key
---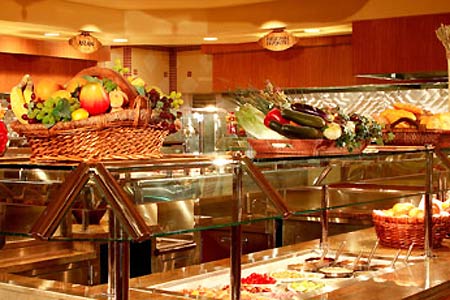 ---

Operations may be disrupted due to COVID-19. Be sure to contact the restaurant to find out its current status and offerings.


---


The Buffet at the Golden Nugget Restaurant Review
: Golden Nugget's buffet room features etched-glass booth dividers and a view of the resort's pool area and its palm trees. It also has orange and yellow drapes, and chandeliers that emit a romantic golden glow. Omelets are cooked to order; the Sunday brunch includes Champagne. The salad bar displays mesclun greens with couscous, soups such as cream of tomato and chicken noodle, and traditional fare. At the seafood station are shrimp cocktails, sushi and herb-crusted tilapia with spinach. Among Asian specialties are spring rolls, and beef and broccoli. At the Italian booth you'll find sausage and peppers and chicken Marsala. Mexican selections include pork tamales and link sausages. We like the American station's carved-to-order turkey. Chocolate éclairs and carrot cake are among dessert favorites. Breakfast & Lunch Wed.-Fri. $16.99; Dinner Wed.-Thurs. $23.99, Sat.-Sun. $25.99 and Friday Seafood Buffet $28.99; Brunch $22.99.
---
TRENDING ON GAYOT.com

> SEAFOOD & WINES: The 13 Best Wines for Pairing with Seafood in 2022. See the list.

> WINE & SEAFOOD: What are the best wines to pair with seafood? See GAYOT's Guide.

> MEZCAL: 4 Great Craft Cocktail to make at home. Get the recipes.
---
GAYOT's Wine & Spirits Editor presents the
Wine of the Week, featuring tasting notes as well as history on the vineyards and winemaker.

The view is not the only reason to dine at Calabra in Santa Monica, CA.
Read the review and see photos
.