A classic California café, Borrone is a locals' favorite.

Openings:
Breakfast & Lunch Wed.-Sun.
Features
Dress code: Casual
Entertainment: Live music Thurs.-Fri.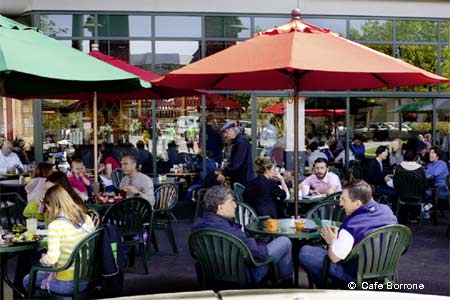 Cafe Borrone Restaurant Review:

There's always a line at lunch, and often at breakfast, at Cafe Borrone --- and for good reason, given the above-average coffee drinks, house-made pastries and reasonable menu of light café fare. When the weather is cold, try the signature Borrone, a shot of espresso in hot chocolate topped with thick, house-made whipped cream, shaved almonds and a dusting of cocoa powder: dessert in a mug. Warm-weather beverages include the frosted mocha, a grown-up coffee milkshake finished with the same lush whipped cream. Egg scrambles and pastries make for some of the best breakfasts on the Peninsula. Sandwiches and specials are generally worth trying. Dinnertime brings salads, hot sandwiches and entrées from lasagna to quiche. Pies, egg custard and weekend-only sticky buns are all hits, as are the double chocolate and chocolate chip cookies.
---