Caffe Pinguini
6935 Pacific Ave. (Trolleyway St.)
Send to Phone
This hideaway Italian bistro near the beach offers serious food in a relaxed atmosphere.
Open

Lunch Tues.-Fri., Dinner Tues.-Sun.

Features
* Click here for rating key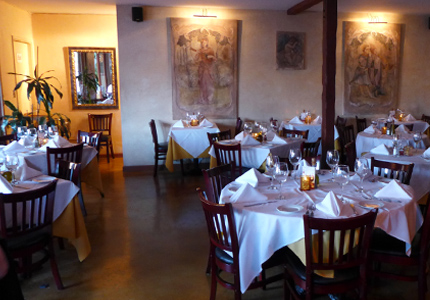 Caffe Pinguini Restaurant Review
: Caffè Pinguini is located one block from the beach and is surrounded by apartments and bungalows, but this is one serious Tuscan restaurant. The pastas are freshly made, the daily specials dependent on seasonal vegetables, and the service is professional and very Italian. Try the broiled mozzarella and sautéed shiitake mushrooms to start. Several soups are also on offer. Winning pastas include rigatoni with pancetta and onions in a slightly spicy tomato sauce, in addition to a solid fettuccine bolognese. Pizza dough is made in-house and baked crispy and thin, topped with items like mushrooms, mozzarella and prosciutto. Veal scallopine, tender and rich, and filet mignon with a white truffle cream sauce are both good large plates. For dessert, try the classic tiramisu. The wine list has an array of bottles at fairly high markups --- you can drink very well here, but not cheaply. Caffè Pinguini is a lovely, romantic little place that hardly anyone outside the area knows about, a hidden gem that is worth a little extra money for a fine evening.