Fairfax Scoop churns up organic ice cream from local cream and fruit.

Openings:
Open daily
Features
Dress code: Casual
No Credit Cards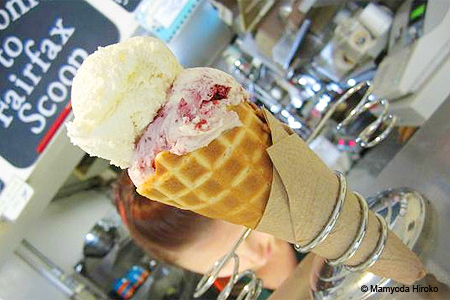 Fairfax Scoop Restaurant Review:

A cone from Fairfax Scoop is not only a Marin County rite of summer, it's a must year-round. The tiny shop, a pioneer in America's organic ice cream movement, churns up seasonal flavors daily using cream from nearby Straus Dairy and local fruits, nuts and herbs. The vanilla honey-lavender has a cult following, but the strawberry (in season) is equally worthy. Though you can order a cup, it's hard to resist the house-made waffle cones, the aroma of which helps lure the long line of patrons. In the autumn, pumpkin ice cream and eggnog ice cream rife with nutmeg are both irresistible. There's also a daily changing vegan ice cream that in terms of texture and flavor might be one of the best you will ever taste.
---