---
---
Open

Breakfast daily, Tea Sat., Brunch Sun.

Features
Valet parking
Dress code: Business casual
Reservations suggested
* Click here for rating key
---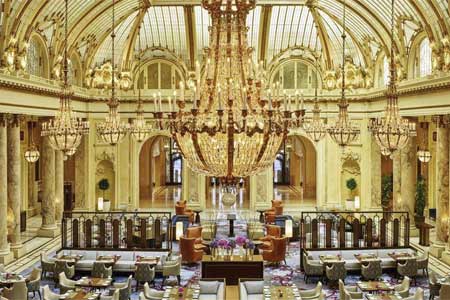 ---

Operations may be disrupted due to COVID-19. Be sure to contact the restaurant to find out its current status and offerings.


---


Garden Court Restaurant Review
: There's no prettier room in San Francisco than this one off the lobby of the Palace Hotel. Beneath a spectacular glass roof, a sea of elegant tables, chairs and willowy palms is arranged over a richly patterned carpet. The optimum time to visit is for afternoon tea, for its aristocratic aura and attentive service. Sunday brunch is also a good experience. For lunch, the signature salad with Dungeness crab is a favorite.
---
TRENDING ON GAYOT.com

> SEAFOOD & WINES: The 13 Best Wines for Pairing with Seafood in 2022. See the list.

> WINE & SEAFOOD: What are the best wines to pair with seafood? See GAYOT's Guide.

> MEZCAL: 4 Great Craft Cocktail to make at home. Get the recipes.
---
GAYOT's Wine & Spirits Editor presents the
Wine of the Week, featuring tasting notes as well as history on the vineyards and winemaker.

The view is not the only reason to dine at Calabra in Santa Monica, CA.
Read the review and see photos
.