Kincaid's Hamburgers
4901 Camp Bowie Blvd.
Send to Phone
Satisfying burgers from meat cutter Charles Kincaid.
---
---
Open

Lunch Mon.-Sat.

Features
Parking available
Dress code: Casual
* Click here for rating key
---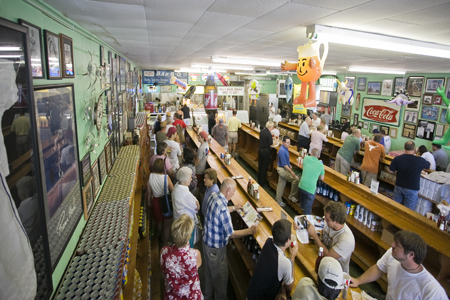 ---

Operations may be disrupted due to COVID-19. Be sure to contact the restaurant to find out its current status and offerings.


---


Kincaid's Hamburgers Restaurant Review
: Loyalists in jeans, shorts, pressed military uniforms, office attire---you name it---will drive clear across town, in from the ranch and past a zillion other burger stands for an authentic Kincaid burger. They're flipped in a former corner grocery store that was later swallowed up by meat-cutter Charles Kincaid, who was looking for a way to use up the day's excess ground beef. Place your order at the old-fashioned meat case, where it'll get written down on a white paper sack, which will then get stuffed with your request. A plain oversize bun struggles to contain the patty and its trimmings, guaranteed to dribble juices on the paper wrappings. For the ultimate in gluttony, order a chili cheeseburger and add a heap of crinkle cut fries or onion rings.
---
---
---