888-525-5852, 760-325-5059
Map
Classic French restaurant and the go-to place for a special dining experience and star spotting.

Open
Dinner nightly, Brunch Sun. (closed during summer)
Features
Valet parking
Dress code: Casual dressy
Entertainment: Entertainment
Reservations suggested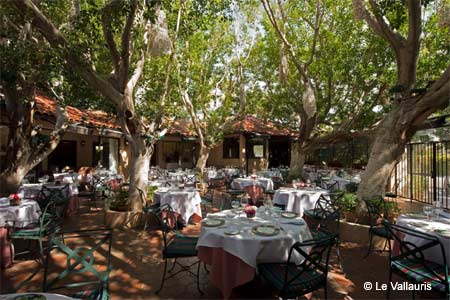 Le Vallauris Restaurant Review:

About the restaurant and décor: Many legendary celebrities have passed through the door of Le Vallauris, and it's still the go-to place for a special dining experience and star spotting. Co-owners Paul and Omar make the rounds most evenings to greet old friends and welcome new guests. The main dining room is outfitted with Louis XV furnishings, and warm lamplight illuminates white-linen table settings and Flemish tapestries. But it's the outdoor space that lends itself to a romantic meal day or night. Sunlight bathes the area at lunch, and sparkling fairy lights and the shadows of enormous Ficus trees create a chiaroscuro effect reminiscent of village restaurants in the south of France.

Likes: The outdoor patio at night.
Dislikes: Lack of self-parking.

Food & Drinks: Chef Jean Paul Lair embraces the classics, but with a lighter touch. Lunchtime features salads and ahi tartare. At dinner, appetizers include escargots and porcini mushroom ravioli. A prix-fixe menu is announced each week and is a good value at less than $60 per person for three courses. Expect a wine list with a mix of French and California labels, and save room for silky crème brûlée or dark chocolate mousse for dessert. If you're in town when Le Vallauris hosts its monthly cooking class, consider attending.
---