The Little Chihuahua Mexican Restaurant
292 Divisadero St. (Page St.)
Send to Phone
415-255-8225
| Make Restaurant Reservations
| Menu
Divisadero taqueria's devotion to organic, sustainable ingredients means upgraded quality and farm-fresh flavor with plenty of heat.
Open

Brunch, Lunch & Dinner daily

Features
* Click here for rating key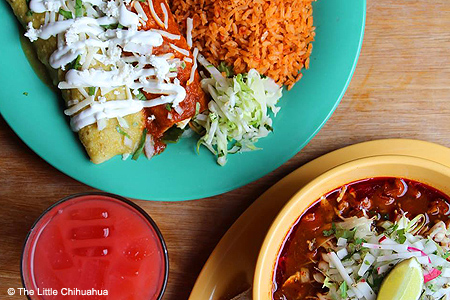 The Little Chihuahua Mexican Restaurant Restaurant Review
: The menu of sustainable, organic, Mexican-style offerings here seems to improve weekly---ingredients are farm-fresh, flavors are sultry, balanced and smoky, with varying levels of just-right heat. Grilled fillings for enchiladas, tacos or burritos include Niman Ranch steak and pork, Clean Fish shrimp, grilled or chile verde Rocky Jr. chicken, chile verde tofu or grilled seasonal vegetables (wild mushrooms are a favorite). Tortilla soup with chicken, avocado and tomato radiates rich flavor. Salsas and pico de gallo are eye-poppingly fresh. Counter service is graceful and neighborhood-friendly, and there is plenty of rustic wooden seating and inexpensive sangría. Try the Mexican brunch.