---
---
Open

Lunch Tues.-Fri., Dinner nightly, Brunch Sat.-Sun.

Features
* Click here for rating key
---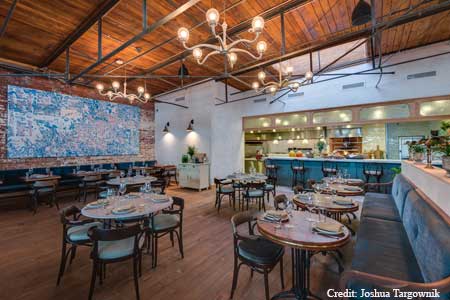 ---

Operations may be disrupted due to COVID-19. Be sure to contact the restaurant to find out its current status and offerings.


---


Manuela Restaurant Review
:
About chef Kris Tominaga: Chef Kris Tominaga turned out fine French-California dishes at Cadet, and his striking, Southern-inflected cooking at The Hart & the Hunter at Palihotel helped earn the restaurant acclaim. At Manuela, the SoCal native has revamped the menu with creativity and a new Southern inflection while updating popular dishes.

The décor: This is one of the dreamiest spots in the downtown Arts District, almost a hidden world of its own tucked inside the courtyard of Hauser & Wirth. A former flour factory, this restored Globe Mills complex retains a romantic industrial atmosphere. The 5,000-square-foot restaurant seats up to 140 diners, but it's divided into more intimate sections: a wraparound patio; a long, swank bar; a dining room that's an art gallery in and of itself, showcasing the paintings, sculpture and custom-made chandeliers of artists Paul McCarthy, Mark Bradford, Mary Heilmann and Raymond Pettibon. Wander the courtyard a bit and encounter chickens (cooped), bespoke shops, and an herb garden that provides ingredients for cocktails.

Likes: Gorgeous space; consistently creative dishes; interestingly artsy crowd.
Dislikes: Weekends get noisy.

Food & Drinks: Tominaga strikes the ideal balance between bright, California farm-to-table fare and contemporary Southern flavors articulated with a bit of French technique. It's soulful cooking. Don't miss his (rightly) famous cream biscuits with honey butter and country ham. Seasonal market salads and vegetables become stars here; look to a fine Siberian kale salad and a complex, harmonious blistered snap pea dish that sings springtime, offset by black quinoa, feta and sesame date butter. Diver scallops with rustic bacon and hen of the woods mushrooms arrive skillfully cooked. We are rather smitten with a standout grilled deer loin with maitake mushrooms, tender and savory, evoking the forest in the midst of the city. For dessert, skip to the lighter side with a lovely lemon verbena ice cream or strawberry buttermilk sherbet. Cocktails are fresh and pretty, and the wine list offers select French and California-leaning choices.
---
---
---