Seasonal, upscale California cuisine with Italian inflections.

Openings:
Lunch Mon.-Fri., Dinner nightly
Features
Parking lot
Dress code: Casual dressy
Entertainment: Entertainment
Reservations suggested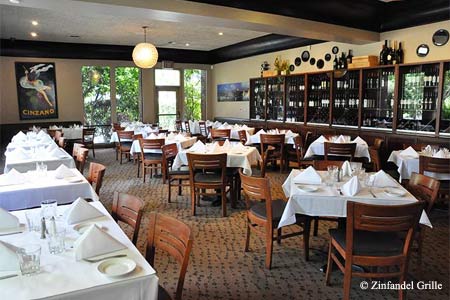 Zinfandel Grille Restaurant Review:

Tucked away in a nondescript shopping area, Zinfandel Grille is an upscale yet unpretentious choice for a romantic night out or a celebratory meal. The menu showcases comfort food made from fresh, local produce and quality meats and seafoods, many with a California-Italian influence. Starters include flatbread with salmon, mozzarella and heirloom tomatoes or beer-braised pork over risotto cakes. Mains include lamb shank with crispy cheddar polenta, seared sea scallops with butternut squash risotto and peppercorn-crusted filet with a wine reduction. Pasta, wood-fired pizzas and entrée salads are also available. Top off your meal with a house-made dessert, such as tiramisu or chocolate truffle lava cake.
---