A temple of haute gastronomy by chef Claude Le Tohic offering modern French cuisine at this restaurant on the fifth and sixth floors of ONE65.

Openings:
Open for Dinner Tues.-Sat. 5:30 p.m.-9 p.m.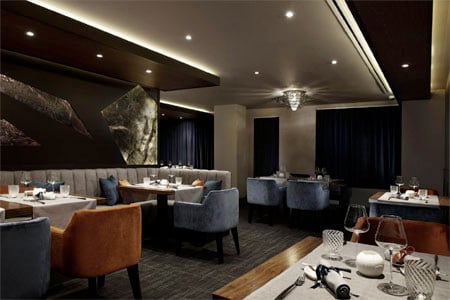 O' by Claude Le Tohic Restaurant Review:
About the restaurant:
Just like the penthouse at the top of a building is the best apartment, O' by Claude Le Tohic occupies the uppermost two floors of the now well-known
ONE65 French culinary mecca
. The haute gastronomy restaurant resides on the fifth level of the totally renovated 1906 French Beaux Arts building listed in the National Registry, while the sixth floor is the kitchen and the eight-seat chef's table, which we highly recommend. The white tablecloths usually expected in a fine-dining establishment have been replaced by grey linen table runners atop medium dark wood tables surrounded by blue and orange velvet chairs. Artistic photos adorn the black walls.
About the chef:
Chef Claude Le Tohic is making a splashing entrance of his own in the culinary world. It is a very competitive one and it is not as easy as one might think, especially when you consider the investment necessary for an establishment of this caliber. Le Tohic spent years and years, particularly in
Las Vegas
, with the chef that we named "Chef of the Century" in 1990:
mega-chef Joël Robuchon
, a true master, one who paved the gastronomic roads, highly respected, one of the very best and very, very few at that level. We don't want to make Le Tohic sound older than he is, but the experience he acquired and built over time is the key here. So, expectations were at the top when we pushed open the door of Le Tohic's first venture of his own. There are many elements he needed to assemble to reach these heights: first and foremost, his expertise and talent, then a team (led here by chef de cuisine Florent Courriol), along with first-rate ingredients and products, décor, service, wine list and, to wrap it up, all the plates, silverware, linens and glasses. After spending two days on the premises and dining at O', we can tell you that Le Tohic has achieved this and his goal with, simply in one word, perfection. He well deserves the
highest rating
we can bestow a restaurant: 19 out of 20.
About the food:
It is all about precision, delicacy and balance to ensure flavors and esthetic. Admire the container of the cauliflower panna cotta amuse-bouche in red cabbage jus and essential oils. The Caviar Composition is arranged in three preparations and presentations of the luxurious delicacy, including an unagi and farm egg sabayon. The zucchini cannelloni is almost too beautiful to eat. Then comes a grand master dish, the seafood royale. Composed of scallop, Kumamoto oyster and uni in a wild fennel emulsion, it is truly a dish for culinary emotions. It is followed by a half-smoked salmon served with its crispy skin; and spicy lavender crusted duck breast. You cannot bypass the cheese cart, as well as the mignardises one. And, in between, let executive pastry chef Yannick Dumonceau prepare a red berry sorbet with lemon cream and red bell pepper or the beautiful lychee on top of grapefruit and mascarpone with crystalline rose water.
About the wine:
The wine list is massive. It is a real pleasure to turn the pages. If you are not opting for a pairing with your dinner ($150 or $350), wine director Vincent Morrow is here to skillfully guide you.
---