The Oceanaire Seafood Room
1201 F St. NW (12th St. NW)
Send to Phone
Elegant, stateroom décor and a kitchen that gives attention to using only sustainable seafood.
---
---
Open

Lunch Mon.-Fri., Dinner nightly

Features
Valet parking
Dress code: Casual dressy
Reservations suggested
* Click here for rating key
---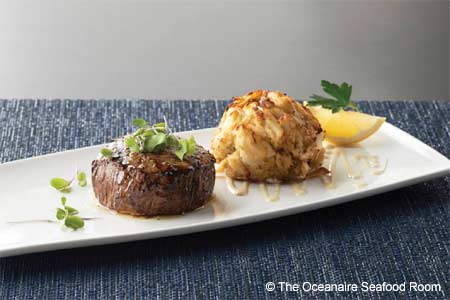 ---

Operations may be disrupted due to COVID-19. Be sure to contact the restaurant to find out its current status and offerings.


---


The Oceanaire Seafood Room Restaurant Review
: Reminiscent of a '30s restaurant, this 9,000-square-foot place with plush cherry-wood paneling promises and delivers especially fresh seafood in a variety of ways. Check the top of the menu for the catches of the day --- about two dozen fish varieties --- and listen to your server's specials before you make any decisions. The menu includes big shrimp cocktails and crab-cake appetizers, clams casino, oysters Rockefeller (plus an assortment of fresh oysters, at the oyster bar or at your table) and soups (a Maryland blue crab soup leads the list). Menus are drawn up twice daily to ensure that freshly arrived catch can be served simply grilled or broiled and brushed with olive oil and lemon. The crab Louie salad might be a lighter choice than the cioppino, but we adored the latter, a seafood stew that is a mix of fish and shellfish in a peppery broth. Desserts are wickedly outsized; you'll wish for an elastic-waisted outfit if you plan to finish off the for-two portions of cheesecake or Key lime pie. Smaller old-fashioned desserts like Toll House cookies with milk or a root beer float may become all the rage in this town where looking back is as much fun as peering into the future. Service is courteous and diligent.
---
---
---

Non-vintage Champagne reflects the signature style of the Champagne house. See GAYOT's list.