Rainforest Cafe
3717 Las Vegas Blvd. S. (Harmon Ave.)
Send to Phone
702-891-8580
| Make Restaurant Reservations
You'll have fun at this jungle-themed eatery with its own brand of entertainment, located adjacent to Planet Hollywood.
Open

Breakfast, Lunch & Dinner daily
Open late Fri.-Sat.

Features
Valet parking & parking garage
Dress code: Casual
Reservations suggested
* Click here for rating key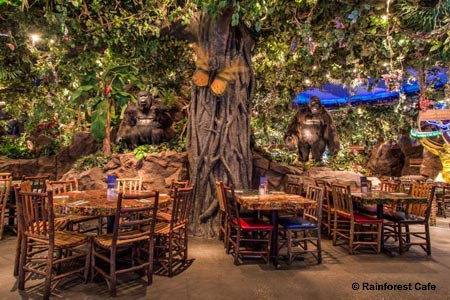 Rainforest Cafe Restaurant Review
: This restaurant's food and drink are accompanied by its own brand of entertainment, which will be a hit with the kids. Be sure to check out Tracy, the Talking Tree, who educates and entertains guests with environmental messages every 30 seconds; Julius Squeezer, a 25-foot boa constrictor who observes from a tree in the main entrance looking for trespassers; and thunderstorms occurring every 30 minutes. Try to be seated on the third level, which has a sweeping view of the Strip. Begin with the Tropical Island salad: romaine and spring mix lettuce with grilled shrimp or chicken, mangoes, strawberries, grapes and roasted pumpkin seeds tossed in a honey lime vinaigrette. Among hearty entrées are Paradise pot roast over mashed potatoes, and Rasta Pasta, cavatappi with grilled chicken, walnut pesto, broccoli, red peppers and spinach with garlic Alfredo sauce. Save room for the Sparkling Volcano for two, a rich chocolate brownie cake and vanilla ice cream, capped off with caramel and chocolate sauces.