Roscoe's House of Chicken 'n' Waffles
830 N. Lake Ave. (Orange Grove Blvd.)
Send to Phone
What seems like a crazy combination works, especially since both the chicken and waffles are top-drawer.
---
---
Open

Breakfast, Lunch & Dinner daily
Open late Fri.-Sat.

Features
Parking lot
Dress code: Casual
* Click here for rating key
---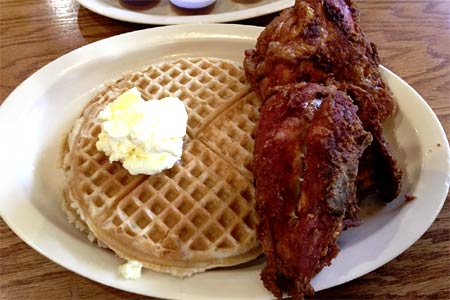 ---

Operations may be disrupted due to COVID-19. Be sure to contact the restaurant to find out its current status and offerings.


---


Roscoe's House of Chicken 'n' Waffles Restaurant Review
: To its legions of loyalists, the combination of chicken and waffles made famous at Roscoe's doesn't seem the least bit odd. These waffles --- among the best in town --- actually make a natural complement to the crispy, slightly spicy fried chicken that is Roscoe's specialty, and come in combination plates like "Herb's special" (half a fried chicken smothered in gravy and onions, served with two waffles). In addition, you can find fried chicken livers, giblets and rice with gravy, hearty Southern-style breakfasts, chicken chili, and chicken sausages served with eggs and biscuits. Side dishes include collard greens, mac 'n' cheese, and red beans and rice. Finish it all off with sweet potato pie, and once you settle up your reasonable tab, you'll understand why people like dining with 'Scoe.
---
---
---