Rosh Hashanah Restaurants in Los Angeles
Photo LUCQUES CATERING © Suzanne Lanza
September 18 – JAR
Chef Suzanne Tracht and Jar present Rosh Hashanah 5781 on September 18, 2020, for sidewalk dining as well as takeout and delivery.

Dinner begins with challah and Castelfranco salad with wild arugula, manchego, dates, almonds and sherry vinaigrette. For the main course, guests may select pot roast with carrots, caramelized onion, prunes and creamy horseradish or chicken schnitzel with fingering potatoes, pea tendrils and pickled garlic vinaigrette. Also offered is an à la carte option of Suzanne's signature matzo ball chicken soup with lemongrass broth for two (supplement of $14). To ensure a sweet year, the meal concludes with roasted apple bread pudding with crème anglaise. Pricing for the dinner is $65 per guest, exclusive of beverages, taxes and gratuity.

> Takeout orders must be placed by September 17, 2020, by calling 323-655-6566 or emailing info@thejar.com.
September 18 – BOA STEAKHOUSE
BOA Steakhouse in Santa Monica and West Hollywood will offer a Rosh Hashanah to-go menu.

Each order serves two people for $120, with the option to add additional orders for larger parties. The meal starts off with challah and an appetizer of chicken noodle soup, followed by either braised brisket or half chicken. Two sides are also included, with choices of sweet potato purée, grilled asparagus, chipotle lime corn, mac & cheese, smashed broccoli or mashed potatoes.

> Place your order online for BOA West Hollywood or BOA Santa Monica. Orders must be placed by 5 p.m. on September 17, 2020, for pick-up between noon and 3 p.m. on September 18th.
September 18 & 19 – LUCQUES CATERING
LUCQUES CATERING, from chef Suzanne Goin and Caroline Styne, celebrates Rosh Hashanah on Friday, September 18 and Saturday, September 19, 2020, with two nights dedicated to a Holiday Supper inspired by author Amelia Saltsman and her recipes from The Seasonal Jewish Kitchen.

The menu features duck liver crostini with arugula, date molasses and walnuts and good luck fruits from the market followed by ricotta dumplings with "chicken soup," Pecorino and rye-schmaltz breadcrumbs. For the main course, choose between braised beef brisket with horseradish gremolata and roasted carrot-sweet potato tzimmes or grilled white trumpet mushrooms and garlic rapini and roasted carrot-sweet potato tzimmes. Caramelized apple honey cake with pine nuts, rosemary and crème fraîche provides a sweet ending. Pricing is $48 per person. These courses and other holiday dishes may also be ordered à la carte.

> Order takeout through TOCK for curbside pickup at The Larder Maple Drive in Beverly Hills. Delivery is also available within an eight-mile radius for $15.
September 18 & 19 – BLUE PLATE OYSTERETTE
Blue Plate Oysterette in Santa Monica has seafood lovers covered with its Rosh Hashanah Menu.

For $29 per person, patrons receive a choice of grilled whole branzino or king salmon fillet with market vegetables or herb salad, plus a bowl of matzo ball soup. Blue Plate's matzo ball soup is also available separately for $15 (serves 3).

> Email orders to info@blueplatesantamonica.com by 4 p.m. on September 17, 2020, for pick-up on September 18th or 19th.

September 18 & 19 – MISTRAL RESTAURANT
Enjoy a takeout Rosh Hashanah dinner from French bistro Mistral Restaurant in Sherman Oaks.

The $55 prix-fixe menu features options such as kabocha and butternut squash soup, house cured salmon or salad to start; main courses of branzino, herb and Dijon chicken, or braised brisket; and dessert of flourless chocolate cake or challah bread pudding.

> Call 818-981-6650 to pre-order for pick-up on September 18th or September 19th.

September 18-20 – AKASHA
Chef/owner Akasha Richmond and partner Alan Schulman of AKASHA in Culver City celebrate their annual Rosh Hashanah Dinner with three nights of specials for take-out and delivery from September 18-20, 2020. (Order by September 15th.) They will also be available for distanced outdoor seating.

Among the à la carte options are chopped chicken liver (pint, serves 4-6, $20), spiral-shaped olive oil & honey challah ($10), matzo ball soup (serves 2, $14) new fruits & local honey (serves 2, $12), braised beef brisket (serves 2, $36), noodle kugel (serves 2-3, $20) and apple-honey cake (serves 4, $20).

> For the full menu, visit the official website.
September 18-20 – Maple Block Meat Co.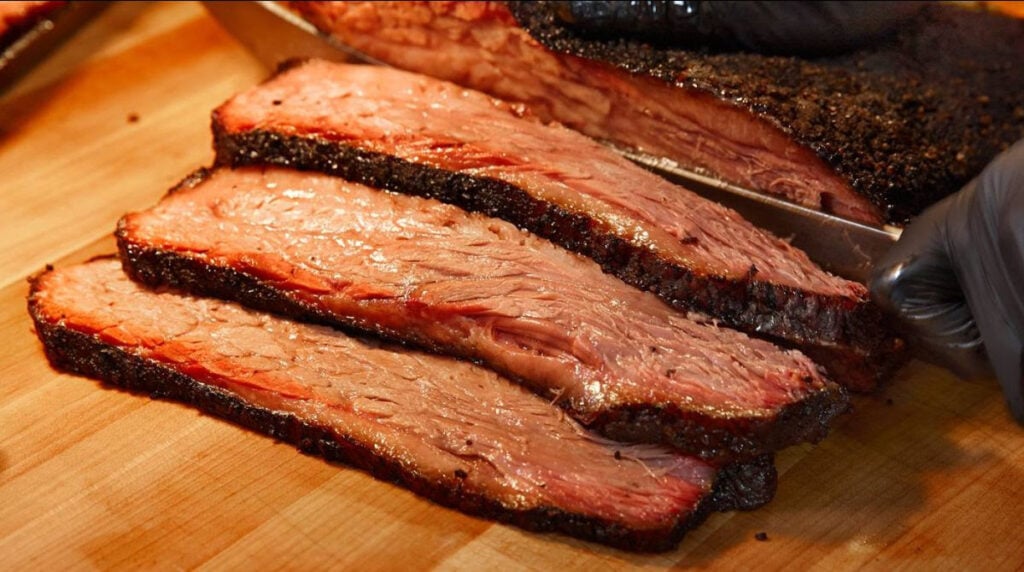 Whole sliced briskets are on offer at Maple Block Meat Company in Culver City.

The catering menu also includes other smoked meats, classic BBQ side dishes, desserts and more.

> Call 310-313-6328 or e-mail catering@mapleblockmeat.com to place an order for pick-up or delivery.
September 18-20 – NERANO
Enjoy an Italian spin on Rosh Hashanah dinner at Nerano in Beverly Hills.

Guests can savor their meal al fresco on the patio or pre-order for takeout or delivery September 18-20, 2020.

Dishes, available in single portions or family-style, include endive salad with anchovies, lemon dressing, parsley, lemon zest and walnuts; Spanish saffron risotto, Parmigiano-Reggiano and Roman-Jewish artichokes; roasted salmon with Dijon mustard and sage sauce, grilled corn on the cob, swiss chard; roasted chicken in a citrus glaze, roasted brussels sprouts, mashed potatoes; and olive oil rosemary cake with gelato.

> To order, visit the official website.
September 18-20 – SLAB
Barbecue restaurant SLAB is offering both half and full briskets for pick-up for the High Holidays.

They are available for Rosh Hashanah (September 18-20) and Yom Kippur (September 27-28).

> Orders must be placed 48 hours in advance online.