Top 25 Restaurants in San Francisco to Eat at Right Now
Where to Eat in San Francisco

This undisputed food city is buzzing with everything from casual hot spots to upscale modern newcomers. With so many options, it can be hard to decide where to go. To help you out, presented in alphabetical order, here is GAYOT's guide to the 25 hottest restaurants in San Francisco.
Check out the current list of GAYOT's Top 25 Restaurants in San Francisco to Eat at Right Now
Aatxe
— Castro District

Basque small plates along with fun cocktails and a hopping scene in the Castro's Swedish American Hall.




Read more
---
AL's Place
— Mission

Elevated garden fare with a side of (beef) cheek, courtesy of Aaron London.




Read more
---
Black Bark BBQ
— Fillmore District

Masterful brisket, spare ribs and pulled pork, with classic Southern sides.

Read more
---
Buckeye Roadhouse
— Mill Valley

California-American comfort food with creative twists is served in an elegant ski lodge-like setting.




Read more
---
Cadence
— Mid-Market

EDITOR'S NOTE: THIS RESTAURANT IS CLOSED Classy New American fare in the heart of mid-market, from the team behind Maven.


Read more
---
Californios
— Mission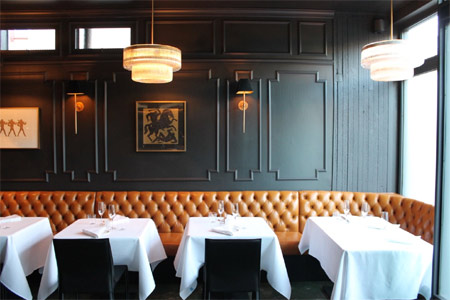 Chef-owner Val M. Cantu presents a multi-course tasting of Mexican fare in the Mission district.

Read more
---
Dirty Habit
— Union Square

Craft cocktails and an exceptional spirits list make this spot an optimal after-work habit; food is offered as well.




Read more
---
Fiorella
— Richmond District

Wood-fired pizza and deft pairings in an upmarket scene that welcomes families.




Read more
---
Garaje
— SoMa

Taqueria, burger joint and much more, Garaje offers a variety of Mexican and other flavors with pretense-free, old-school appeal.

Read more
---
Homestead
— Oakland

A confident, cozy, rustic restaurant soothes patrons while stimulating taste buds with inventive seasonal specialties.




Read more
---
Kin Khao
— Union Square

Spicy, seasonal Thai food and a modern, busy scene keep the crowds coming to this downtown spot.




Read more
---
Lazy Bear
— Mission

A veritable temple to modern cooking and chef culture juxtaposed with rustic cabin chic carves out a unique niche in the Mission.

Read more
---
Little Gem
— Hayes Valley

This welcoming, fast-casual retreat wants to be your go-to meal in Hayes Valley.

Read more
---
Loló
— Mission

This creative Mission restaurant offers fun, color and plenty of personality.

Read more
---
Mister Jiu's
— Chinatown

Chef Brandon Jew offers a menu that takes inspiration from Chinese cooking traditions, as well as California's sustainable and seasonal ethos.




Read more
---
Okane
— SoMa

San Francisco izakaya and sushi spot delivers delicate delectables.




Read more
---
Omakase
— SoMa

Intimate sushi spot offering a chef's choice menu of exceptional cuts.




Read more
---
Mr Holmes Bakehouse
— Tenderloin

Indulgent pastries emerge from this alleged birthplace of the croissant/muffin "cruffin."

Read more
---
Parada
— Walnut Creek

Inviting, invigorating Peruvian repast just a stone's throw from the Pleasant Hill/Contra Costa Centre BART.




Read more
---
The Progress
— Fillmore District

A follow-up from the team behind State Bird Provisions.

Read more
---
Sabio on Main
— Pleasanton

Upscale, contemporary dining from Francis Hogan in Pleasanton.

Read more
---
Maybeck's (Formerly Spaghetti Bros.)
— Marina

Smokey renditions of Italian standards and a steak well worth the spend. Negroni, too.




Read more
---
Urbano Latino
— Oakland

Inviting neighborhood restaurant and bar serving up generously portioned Latin-influenced food for young and old alike.

Read more
---
Village Sake
— Fairfax

Exciting Japanese pub food from a renowned chef, with sushi and much more.

Read more
---
Whitechapel
— Tenderloin

This surreal gin joint is worth a visit for the vibe alone, if not the incredible cocktails.

Read more
Comments
comments
---
MORE ON GAYOT.com

25 Best San Francisco Restaurants for Winter 2016

Find Reviews for More San Francisco Restaurants

Keep up with the Latest San Francisco Restaurant Openings

San Francisco Food Festivals, Special Dinners & More

Wine Tastings & Dinners in San Francisco

UBLS41816
Reflecting on our dinners, some restaurants have ingrained in our memory an impression to remember stronger than others.
See the Winners
.