Slater's 50/50
467 E. Silverado Ranch Blvd., Ste. 100 (Bermuda Rd.)
Send to Phone
Slater's 50/50 is known for over-the-top bacon-infused burgers and craft beer.
---
---
Open

Lunch & Dinner daily, Brunch Sat.-Sun.
Open late Fri.-Sat.

Features
Parking lot
Dress code: Casual
* Click here for rating key
---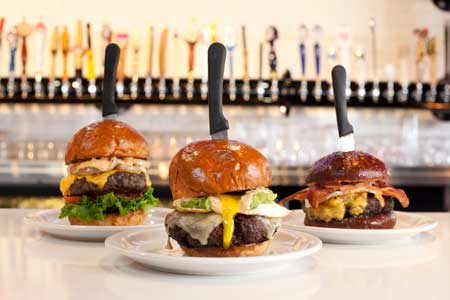 ---

Even as cities re-open businesses, some restaurants may remain temporarily closed due to COVID-19. Be sure to contact the restaurant to find out its operational status.


---


Slater's 50/50 Restaurant Review
:
About the restaurant & décor: Southern California-based Slater's 50/50 is known for over-the-top bacon-infused burgers and craft beer. At this Las Vegas location, design elements include a multi-colored beer cap collage in the shape of a pig, pop art pieces of Slater's signature burgers, an open kitchen and rustic brick wall behind the bar.

Likes: This non-smoking, non-gaming establishment is quite family-friendly and TVs throughout tuned to sports programming make it a hangout where pretty much anyone can feel comfortable.
Dislikes: The dessert menu consists entirely of milkshakes, leaving those who are dairy intolerant left out.

Food & Drinks: Bacon lovers will feel right at home, with the favored ingredient found in starters such as the crispy Brussels sprouts tossed with balsamic vinaigrette, bacon and Parmesan; and bacon-loaded mac and cheese balls. The bacon celebration continues in the burgers, with mainstays including the restaurant's namesake original 50/50, named for its 50/50 blend of beef and bacon topped with pepper jack cheese, avocado, fried egg and chipotle mayo; and the best P.B. & Jellousy with Angus beef, bacon, peanut butter and strawberry jelly. Those without a penchant for bacon have options, like the Eat Your Veggies quinoa patty with roasted red peppers, avocado and cucumbers; and Chicken Carb-o-nera --- garlic-Parmesan cream sauce, penne pasta, blackened chicken, tomatoes and Parmesan. Desserts consist of several over-the-top milkshakes, like the Happy Happy Birthday funfetti shake with vanilla and Jolly Rancher crust, topped with sprinkles, Twinkies and a cupcake, finished with sparklers ignited before serving. The beverage program features fifty craft beers on tap including several local brews, and a small wine list is also available.
---
---
---